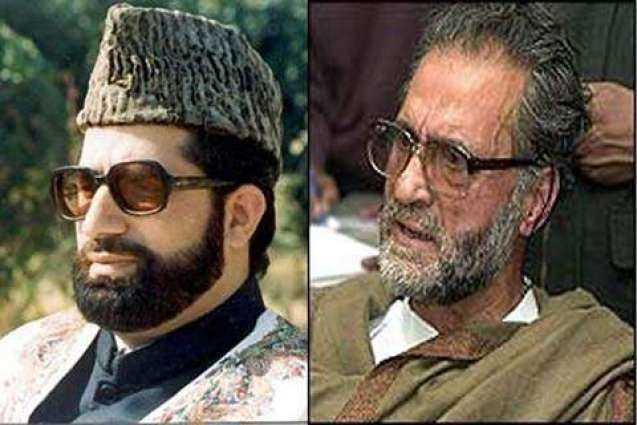 Srinagar, May 20: Peoples Democratic Party (PDP) has paid glowing tributes to late Mirwaiz Moulvi Farooq and Abdul Gani Lone on their martyrdom anniversary describing them as the torchbearers of the State's struggle for political and social justice.
In a statement PDP President Mehbooba Mufti lauded the role of Mirwaiz and Lone in the peaceful struggle for the resolution of the Kashmir issue.
"Both these leaders have played a critical role in the struggle for mitigation of the political, economic and social problems of the people of Jammu & Kashmir," she said.
Paying rich tributes to the deceased leaders, Mehbooba said the political turmoil in the State has given us thousands of wounds that would take years to heal.
"The best tribute to these leaders would be the peaceful resolution of the Kashmir issue. If alive, both Mirwaiz and Lone could have contributed further towards political and social upliftment of Jammu and Kashmir, " she said.
Meanwhile, Jammu and Kashmir Peoples Conference also paid rich tributes to its founder Abdul Gani Lone sahib and Mirwaiz Mohammad Farooq Sahib on their "martyrdom" anniversary.
In a statement they said that the sacrifices rendered by him will become the torchbearer for the future generations of Kashmir who strive for lasting peace in Jammu and Kashmir and in South Asia.
"The leaders noted that Abdul Gani Lone sahib will be remembered for his political astuteness, acumen and farsighted approach vis-à-vis finding a lasting solution to the vexed issue like Kashmir. They added that his assassination exemplifies the pain and agony of the people of Kashmir and how the nefarious miscreants are out there to tarnish the hopes of peace and stability in the region for their own vested interests."
"The leaders further resolved to continue to tread the path shown by its founder and will never be deterred to pursue its agenda of peace, tranquillity and stability of Jammu and Kashmir."
Terming Late Mirwaiz as a pious, noble and honest soul, the party observed that the immense contributions of Mirwaiz Molvi Mohammad Farooq sahib will be remembered for times to come and that he contributed greatly in serving the cause of Islam, education and public service in Kashmir.
The statement further added that both Abdul Gani Lone sahib and Mirwaiz Molvi Mohammad Farooq sahib remind us of a golden era of politics where moderate politics and intellectualism were the defining attributes of leadership. (kns)