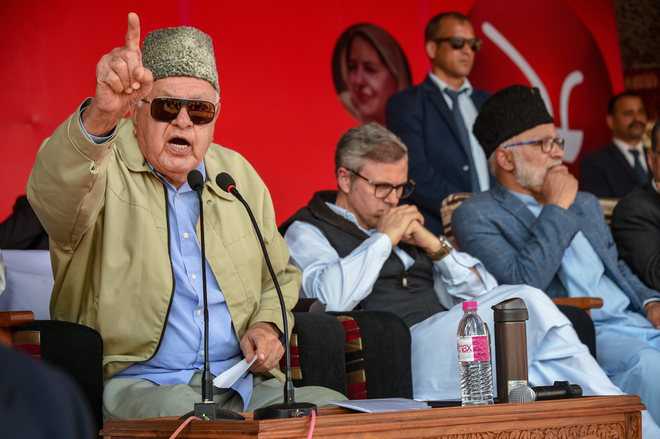 Srinagar, 19 May: The Jammu and Kashmir National Conference on Tuesday sought support to people implicated with COVID-19 spurred meltdown asking the government to ease their loan worries through a massive bailout and COVID sustenance package. 
Expressing concern over the crises chain activated by the COVID-19 spread, Party Spokesperson Imran Nabi Dar said the pandemic has not only incapacitated large businesses, small and marginal traders alone but has also hit the individual incomes of daily wagers as well, rendering them incapable of paying EMIs on the various vehicle, housing and other small business loans.
"On that account, the government is expected to provide relief to the borrowers from the interest accrued by them during the ongoing COVID crises by putting the loans availed by them under moratorium".
"The pandemic and the resultant lockdown have had a negative impact on the income of all such burrowers, who had availed loans to buy vehicles and build houses.  The beneficiaries of YSLS (Youth Start-Up loan scheme) PMEGP and KCC are also not able to deal with the debt. Hence the incumbent government should without any delay gauge the impact of the ongoing lockdown on the borrower's income and recast and restructure the repayment of loans, reclassifying norms for NPA's accordingly," he said.
Alluding to the insipid response of the government to the woes of local tourism players, transporters, artisans, hoteliers previously, Imran said the mountain of interest on them is growing as ever before and that the way out for them from the quandary continues to hook on debt.
"There is a great need to yank local; traders, tourism players, artisans, transporters, marginal agriculturalists and individual borrowers out of the gloom. I hope the incumbent government would shore up a major recovery and sustenance plan by considering waiving off the impending amount of loans, putting a moratorium on EMIs. The middle and lower classes associated with marginal trade, Agriculture, Horticulture, poultry, dairy, Transport sectors are already tottering due to the shutting up of the business, heaping of interests on the wretched lot is cruelty. I hope the incumbent administration will take a holistic view of the situation and come up with genuine both long and term packages to revive the economy," he said.
Drawing the attention of the incumbent JK government towards the problems laid bare by the debilitating assault of the COVID-19 pandemic, Imran asked the government to increase its public expenditure on agriculture, rural sanitation and health, irrigation and flood management, fishers, drinking water, sustenance allowances to hawkers, bus conductors and enhancement of money allocated to social schemes saying the measure will help keep the markets afloat in the absence of money flow from the tourism sector. He impressed upon the government to consider MGNREGA as a tool for post COVID recovery, saying the measure besides boosting development in the rural areas will also provide employment to scores of people.