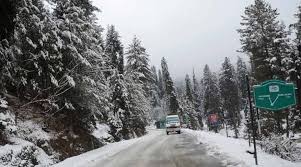 Poonch, May 16: Mughal Road, connecting Poonch and Shopian districts of south Kashmir, shall open for fruit trucks and for the movement of Gujjar-Bakerwals, officials said on Sunday.
Deputy Commissioner Poonch Inder Jeet said that traffic department shall decide about the one-way movement. "It is being opened up for the movement of fruit trucks and Gujjar-Bakerwals only," he added.
Last evening, Lieutenant Governor's office in a tweet said that divisional commissioners shall ensure availability of movement passes in every district.
The 84-kilometer Mughal Road was closed for vehicular movement in November last year and reports said that there were fresh slides en route. "Men and machinery is at the job to clear the thoroughfare," a senior officer in administration said. gns