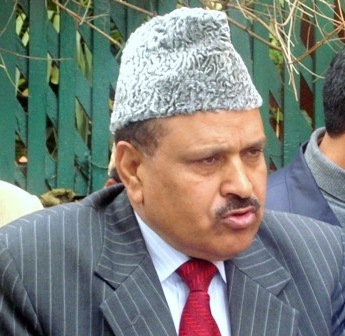 Srinagar, May 3: Former minister and Senior Vice President J&K People's Conference Abdul Gani Vakil today slammed the Lt Governor led administration over its Kashmir policy which is to disenfranchise Kashmiris from jobs.
Terming the termination of a teacher of Kupwara from Govt services as injustice and uncalled for, Vakil said the government on one side appeals to Kashmiri youth to join the mainstream and to shun gun but on the other side continues to harass those who joined the mainstream and are doing their jobs peacefully.
"What kind of a policy is this? The UT administration should immediately roll back this anti-employee order and reinstate the terminated teacher of Kupwara.
It's is anti-people move. It's complete harassment. Upon a simple FIR registered how can a govt come to a conclusion whether the person has done any crime or not when there is no kind of conviction by any court till today, a person is to be deemed innocent unless guilty is proved against him," Vakil added.
Vakil said when the govt is rolling out rehabilitation policy for surrendered Naxals in other states then why it has adopted a different yardstick when it comes to J&K. "For surrendered naxals you are rolling out job policies and for the youth of J&K who has a thrown a stone in anger, which is even not proved in the court of law, is labelled as anti national and thrown out of job," Vakil said.
Vakil also appealed to the govt to release all political prisoners of J&K on humanitarian ground given the spike in Covid cases.
"There are a large number of political prisoners lodged in different jails of India. They must be released or shifted to Kashmir valley given the massive outbreak of Corona Virus in India," so that their families can have a sigh of relief. Vakil added.