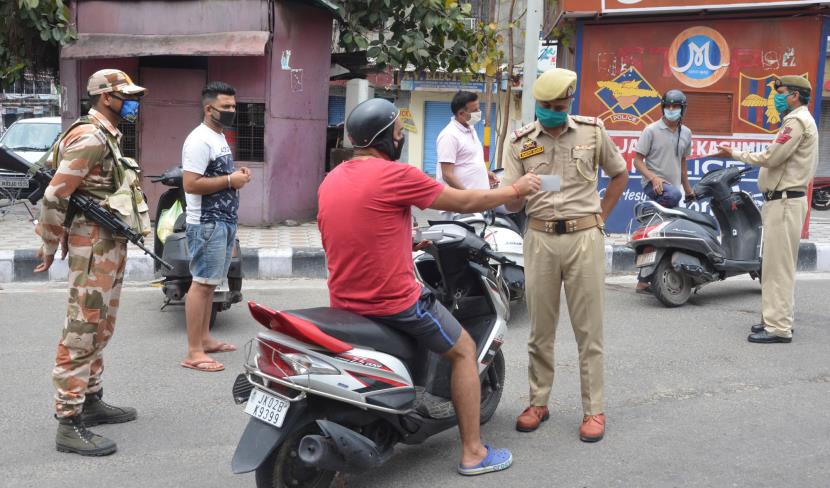 Srinagar, Apr 30: Most of the roads across Srinagar and ten other districts of Jammu and Kashmir wore a deserted look on Friday in wake of the 84-hour-long lockdown imposed by the government in an order to prevent the virus from spreading. On the first day of the lockdown, 118 persons were detained for violating SoPs while as 103 FIRs were lodged in various police stations the past 24 hours.
The lockdown or Corona Curfew was imposed on Thursday evening and will remain in place till Monday morning in 11 districts including the summer capital of the Union Territory. The remaining nine districts also remained under strict restrictions from this evening to Monday morning.
Eyewitness said that police and paramilitary troopers were deployed on roads since the wee hours of this morning to enforce the lockdown strictly.
Witnesses said that barricades and concertina wires were erected at many places and bridges to thwart the public movement. The officers from different departments were also seen on roads to ensure that the lockdown is implemented in letter and spirit.
However, the emergency services, standalone shops were normally functioning throughout the restriction bound districts as the government had exempted them from the restrictions.
Besides, public transport with 50 per cent seating capacity was also allowed to ply today by the authorities.
Meanwhile, Srinagar Municipal Corporation (SMC) Commissioner, Athar Aamir Khan said that it was good to see people cooperating with the administration at this crucial juncture.
"The decision to impose lockdown was taken due to evolving situations and the further decisions in this regard will be taken while taking the situation into the consideration," he said.
He also appealed to follow the Standard Operating Procedure (SOP) in letter and spirit, saying that lockdown and SOPs will help in breaking the chain.
During the last 24 hours, police have detained 118 persons, lodged 103 FIRs and also realised fine to the tune of Rs 90,610 from 730 people for violating the guidelines, rules throughout Kashmir valley.
Besides, four vehicles were also seized for violating guidelines and restrictions, police said, adding that the special drive against the violators of COVID-19 guidelines, rules continued throughout all the districts of Kashmir Valley.
Meanwhile, police urged people to cooperate in containing the spread of Coronavirus by following the SOPs, guidelines, protocols for the safety of the people.
"The special drive shall remain continue throughout the districts of Kashmir Valley to strengthen the safety measures," police said.