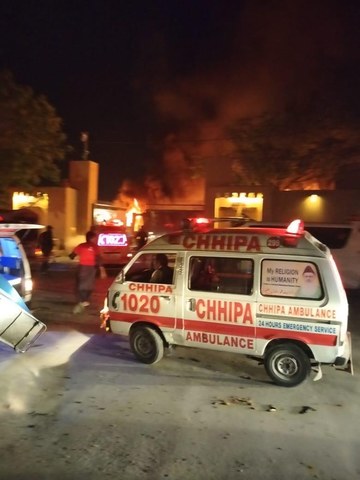 Islamabad: A powerful bomb exploded in the parking lot of the Serena Hotel in Quetta on Wednesday night, killing at least five people and wounding 12 others, officials said, The Dawn reported. 
DIG Azhar Ikram said that the explosive device was apparently fitted in a vehicle, according to initial investigations. He added that a police official was among the deceased, reports said.
Security, fire and rescue officials were rushing to the hotel and no one was being allowed to go near the site of the blast, which took place at around 10:15pm, added reports.
According to the bomb disposal squad, between 80kg to 90kg of explosive material was used. The team added that ball bearings and C4 explosive material was used in the blast, reports said.
Balochistan government spokesperson Liaquat Shahwani, as per media reports said the incident was being investigated from all angles. "Those involved will not be able to escape the grip of the law," he tweeted.
Meanwhile, Prime Minister Imran Khan condemned the incident, calling it a "cowardly terrorist attack".
"I am deeply saddened by the loss of innocent lives in the condemnable and cowardly terrorist attack in Quetta. Our nation has made great sacrifices in defeating terrorism and we will not to allow this scourge to rise again. We remain alert to all internal & external threats," he said. (dawn)