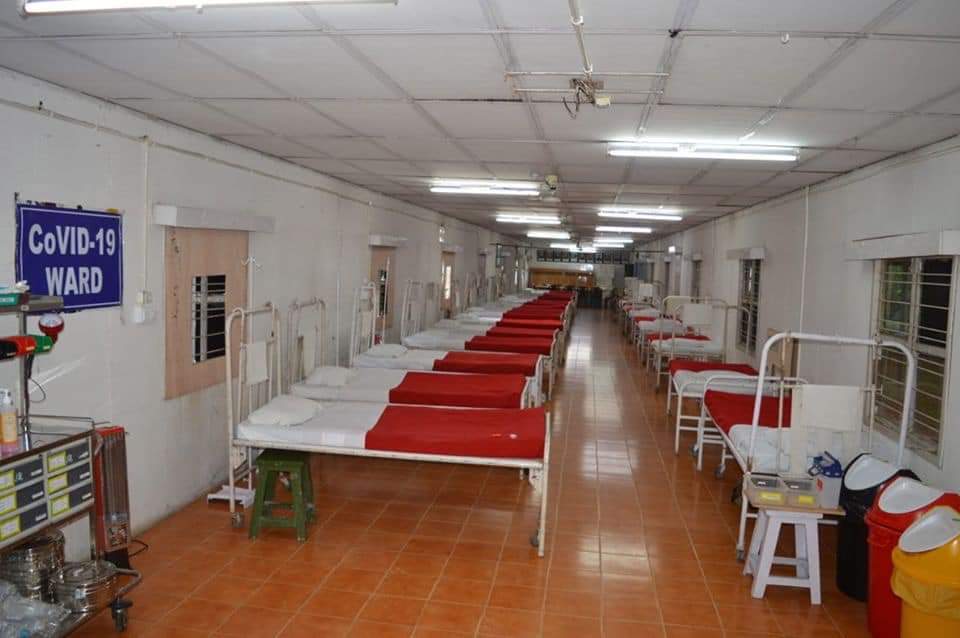 Srinagar, Apr 17: The Covid-19 cases in Jammu and Kashmir continue to show a spurt as 1,145 fresh positive cases were reported on Saturday pushing the number of active cases near 10,910 which otherwise were less than 600 around a month before.
Three more deaths were reported in J&K in the last 24 hours taking the death toll to 2,051 and active cases continue to increase and the recovery rate decreases with each passing day. 1,145 fresh positive cases reported on Saturday pushed the tally of positive cases to 145,166.
Of the exact number of 145,166 cases, 87,129 are from Kashmir and 58,037 from Jammu division.
Officials said that among 1,145 new cases, 642 belong to Kashmir division while as 503 are from Jammu division, adding that the total number of positive cases in Kashmir division have reached to 87,129 including 79,180 recoveries and 1,290 deaths while as total number of positive cases in Jammu division have reached to 58,037 including 53,025 recoveries and 761 deaths.
The officials said that the total number of active cases in Jammu and Kashmir are 10,910 including 6,659 from Kashmir division and 4,251 from Jammu division.
With 852 more recoveries, the tally of total recoveries in Jammu and Kashmir has reached 132,205 which is 91.07 percent of the total cases.
"Cases tested positive in J&K include 319 from Srinagar, 112 from Baramulla, 55 from Budgam, 30 from Pulwama, 17 from Kupwara, 26 from Anantnag, 17 from Bandipora, 44 from Ganderbal, 21 from Kulgam and 01 from Shopian in Kashmir division while as 503 from Jammu division include 264 from Jammu, 22 from Udhampur, 28 from Rajouri, 09 from Doda, 47 from Kathua, 35 from Samba,  05 from Kishtwar, 09 from Poonch, 04 from Ramban and 80 from Reasi," officials disclosed.
As per officials figures, 34,170 positive cases including 485 deaths and 29,827 recoveries are from Srinagar, 10,339 including 183 deaths and 9,139 recoveries are from Baramulla, 8,908 including 8,335 recoveries and 123 deaths are from Budgam, 6,275 including 5,932 recoveries and 93 deaths are from Pulwama, 6,131 including 98 deaths and 5,795 recoveries are from Kupwara, 5,554 including 5,174 recoveries and 99 deaths are from Anantnag, 4,960 cases including 4,780 and 63 deaths are from Bandipora, 4,906 including 4,709 recoveries and 49 deaths are from Ganderbal, 3,141 including 2,870 recoveries and 57 deaths are from Kulgam and 2,745 including 2,619 recoveries and 40 deaths are from Shopian.
In Jammu division, 28,490 including 25,751 recoveries and 397 deaths are from Jammu district, 5,151 including 4,517 recoveries and 58 deaths are from Udhampur, 4,056 including 3,852 recoveries and 56 deaths are from Rajouri, 3,527 including 3,424 recoveries and 64 deaths are from Doda, 3,718 including 3,422 recoveries and 53 deaths are from Kathua, 3,044 including 2,830 recoveries and 43 deaths are from Samba, 2,804 including 2,765 recoveries and 22 deaths are from Kishtwar, 2,632 including 2,524 recoveries and 29 deaths are from Poonch, 2,206 including 2,146 recoveries and 23 deaths are from Ramban and 2,409 including 1,794 recoveries and 16 deaths are from Reasi.
As per the daily information bulletin 1,659,828 persons in Jammu and Kashmir are under observation while 70,030 persons have been kept under home quarantine besides that 10,910 persons are in isolation.
According to the bulletin, 1,449,051 persons have completed surveillance period and 127,786 persons are under home surveillance besides that so far results of 6,720,261 samples are available. Out of 6,720,261 the number of samples tested negative stands at 6,575,095 while as 145,166 have tested positive, among them 10,910 persons are active, 132,205 persons have recovered and 2,051persons have died.