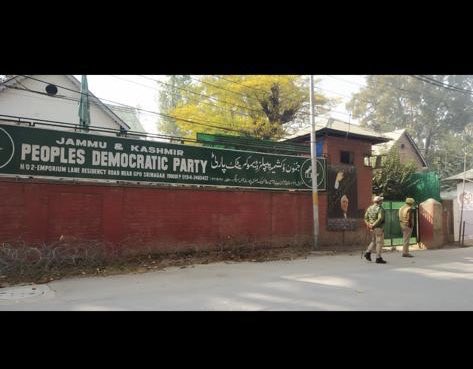 Srinagar, 16 April: People's Democratic Party (PDP) delegation led by Former Minister and Ex MLA Hazratbal Asiya Naqash today visited the family of  Gh Mohd Putoo, a resident Mirakshah Hazratbal, whose wife died in a heart attack allegedly during a night raid. 
In a statement, terming the situation as reminiscing of dark era of Nineteen Ninety's (1990's) Asiya said an atmosphere of fear is being imposed in the valley in the absence of any accountability from the system and institutions.
"These invasive nocturnal raids not only violate the privacy of individuals but also scare the entire population. People can't even sleep safely in their homes now, " she said.
Demanding a quick and time-bound investigation into the matter Asiya said  administration should take a strict note of such deviation from standards operating procedures so that incidents like these do not become a norm.
Asiya Naqash was accompanied by senior members of zone committee Hazratbal which included Abdul Hamid Dar, Mohammad Siddiq, Mohammed Yousuf and others.