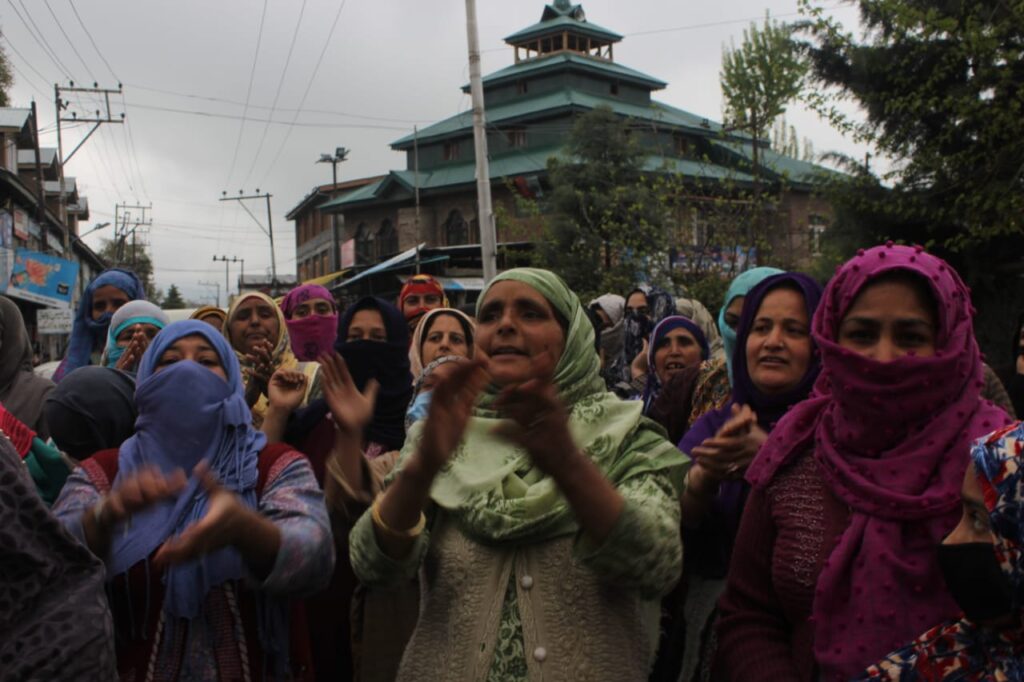 Srinagar, Apr 15: Massive protests rocked Mirakshah colony of Batapora, Habak on Srinagar outskirts on Thursday after a woman died of a heart attack allegedly during a nocturnal raid by police at their house.
Scores of protestors took to the streets in Mirakshah Colony and demanded punishment to the "police men" who were part of the raid at the house where the woman died.
Talking to media men, daughter of the deceased woman said that they received a knock late last night at the main door after which she informed her mother. "When we opened the door, we saw policemen. They asked for my brother. I told them that my brother was not keeping good health," she alleged.
"The policemen went upstairs and conducted searches. Then they took my brother along but my father didn't allow them and insisted that he too should be taken along. When the policemen were leaving, my mother fell on the veranda. My mother had collapsed and when one of our relatives tried to check her pulse, she told us that my mother was no more."
The daughter's deceased woman said that after coming to know about her mother's death, the police men left her brother but took away his mobile phone.
"Policemen came to our house at 2:3 am. I was sleeping. They woke me up and asked for my phone. I handed over my phone to them. When policemen were taking me along, my mother collapased on the veranda," said Javaid Ahmed, the deceased woman's son.
He said while leaving policemen asked him to come to police station Zakura even though his house falls under the jurisdiction of police station Nigeen.
The protestors blocked the main road and didn't allow the vehicular traffic movement. After many hours of protest, the protestors were pacified by the senior police officer in the late afternoon after which the road was through for the traffic again.
A police official said that on the basis of an input, a joint CASO of Police& CRPF was launched in Meerak Shah, Colony last night. "Search was conducted. The search parties left after completing the search. In the morning, it was learnt that one lady Khatija Putoo, resident of same locality died because of a heart attack. Police are looking into the matter," the official said. kno