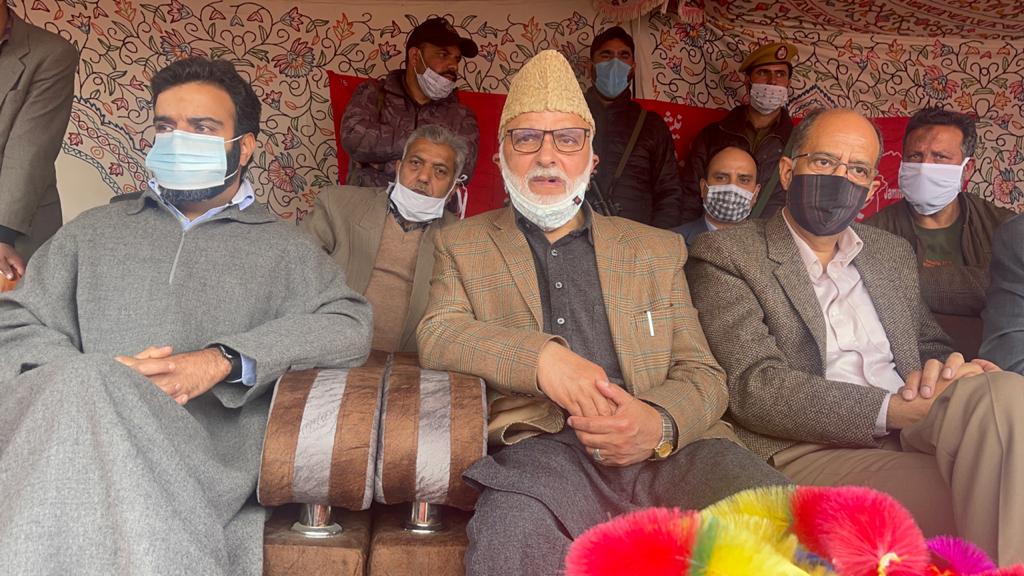 Srinagar, Mar 30: National Conference (NC) on Tuesday said Government of India's August 5, 2019 decision has increased the trust deficit between New Delhi and Kashmir, saying the measures have not fared well in any region of Jammu and Kashmir.
This was said by party General Secretary Ali Muhammad Sagar while addressing a workers meeting at Party Head quarters in Budgam.
In his address, Sagar as per a statement  said that far from institutionalizing the confidence building measures in J&K to win back the trust of people; New Delhi has chosen to supplant a new democratic model on the region.
He said that New Delhi has failed to open its heart to accommodate the dissent and divergent views keeping up with its democratic ideals.
"The new scheme in vogue in Kashmir has disillusioned people especially youth despite expressing faith in the power of ballot and democracy during the most troublesome times. Today the people of Jammu and Kashmir irrespective of their caste, creed, religion or regional affiliations are feeling disempowered as the successive orders post august 5, 2019 have put the people on the track of terminal alienation. The ongoing approach of New Delhi towards Kashmir is far from being people centric and guided by resolute commitment to the promises successive governments in New Delhi had made to the people of Kashmir. The current approach it goes without saying is inconsiderate of J&K's unique socio-political makeup, its internal diversity, religious pluralism, political aspirations and development needs," he said.
He said the unprecedented mandate in favor of NC and PAGD in the recent DDC elections should have acted as an eye opener for New Delhi.  The results  have made  known the people's detestation for august 5 ,2019 measures  in a democratic, constitutional and peaceful manner, hence affording New Delhi a chance to restore all constitutional safeguards to J&K again for greater good of the country's interests. "So far the people of JK have not experienced any merits in the post august 5, 2019 'Naya Kashmir' model. The months and weeks that followed the undemocratic measures have only seen a spike in administrative inertia, development deficit, unemployment , administrative unaccountability , economic slump down,  paucity of basic facilities and black sliding of people's welfare," he added.
He said New Delhi has to show magnanimity and maturity while dealing with JK. "Reimagining a peaceful and prosperous Jammu and Kashmir cannot be achieved until robust investment is poured in its ailing economy, tourism, horticulture, agriculture and allied sectors. He said the pretext of development, investment and employment extravaganza, which the GOI had promised in the run up for undemocratic and unconstitutional measures are not perceptible on ground. On the contrary the situation continues to remain on edge".
Addressing the gathering, Nasir Aslam Wani welcomed the renewed engagement between India and Pakistan saying the cessation of hostilities between the two nations will have a major impact on the furtherance of peace in Jammu and Kashmir. "We look forward to more bilateral meets; such small steps may together set the stage for bolder measures towards a lasting peace. We in our party hope that the respective populations will benefit from the steps taken by the neighboring countries," he said.
In his address, Aga Syed Ruhullah Mehdi said Jammu and Kashmir witnessed unparalleled and unprecedented discrimination on every account. "The months that followed unilateral, undemocratic and unconstitutional abrogation of JK's constitutional position was marked by abrogation of democracy, constitutionalism, peace and prosperity in Jammu and Kashmir," he said adding that that there can be no trade-off between development and people's dignity and for peace to prevail in real sense; the GOI has to do justice with the people at every level.
On the occasion, all the party functionaries prayed for the speedy recuperation and wellbeing of Party President Dr Farooq Abdullah
Among others Party's Provincial President Nasir Aslam Wani, senior party leader Aga Syed Ruhullah Mehdi, Central Zone President Ali Muhammad Dar also addressed the gathering. On the occasion Abdul Ahad Dar, Prof Abdul Majeed Mattu, Manzoor Ahmed Wani, Saif Ud Din Bhat, Dr Muhammad Shafi, Muhammad Ibrahim Mir, Ghulam Nabi Bhat, Muhammad Ashraf Lone, Muhammad Shahi Shaheen, Nazir Ahmed Goga, Local DDC members were also present.