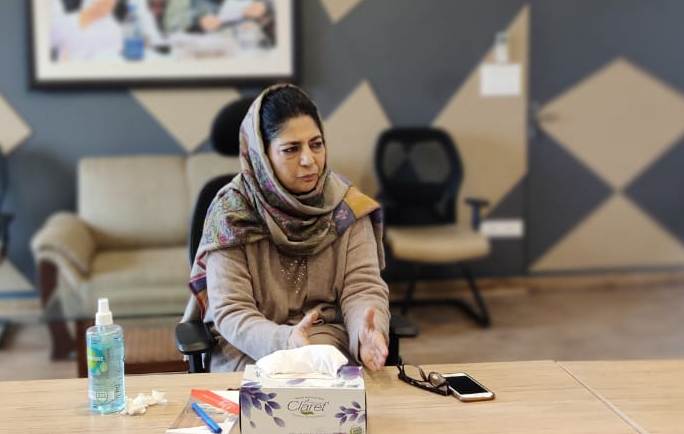 Srinagar, Mar 27: Peoples Democratic Party (PDP) chief and the former chief minister of erstwhile J&K State Mehbooba Mufti Saturday Kashmir has been the worst suffer of Indo-Pakistan hostilities and that the region should benefit from the fresh peace overtures between the two nuclear powers.
She also said that senior leaders leaving the PDP was a bit worrisome, but she had a bigger cause in-front of her to pursue which is much bigger than those who quit PDP perhaps after "seeing the grass greener on the other side."
In an exclusive interview  after chairing the party's Parliamentary Committee Meeting (PAC) meeting at her Gupkar residence in Srinagar, the PDP chief said that at present, PDP has become the voice of pain as the party is pursuing a big cause. "So, I believe, they (GoI) can go to any extent to finish my party," she said.
About the meeting she said that they discussed the fresh peace overtures between India and Pakistan and also the Pakistan army chief General Qamar Bajwa's statement besides the Prime Minister Narendera Modi's greeting letter to his Pakistani counterpart Imran Khan.
"We hope the fresh peace pacts and the process of reconciliation between India and Pakistan doesn't remain confined to just mere lip service. I am hopeful to see the closeness of India and Pakistan taking the shape of a process of big reconciliation, peace and harmony. Kashmir has suffered immensely due to the Indo-Pak hostiles, and it's time for Kashmir to heave a sigh of relief and to reap the peace dividends," she said.
The PDP chief, however, said she sees no reason and justification in keeping her party's senior leaders Sartaj Madani, Naeem Akther and the youth wing president Waheed Para under detention.
On why PAGD remained silent about ED summons to her, she said: "Firstly, I can't comment on why parties in PAGD didn't react to my ED summons, I mean, how can I. I believe PAGD has a larger cause than commenting on ED summons. I don't these things to come in between us."
About the recent media reports that PDP youth wing president Waheed Para had given Rs 5 crore to Hurriyat leader's son to fan the fire in 2016 summer unrest, Mehbooba said that how could Waheed do it when his own party was in power. "How would have we wanted to keep the pot boiling, wouldn't that destabilize PDP? Isn't this ridiculous claim," she asked.
She said that ED sleuths asked her where her secrets funds would go. "I think no CM in the country is supposed to divulge the details of his/her secret funds. Anyways, I clarified to ED that my secret funds would go in engaging the youth for doing surveys on Dal lake and Traffic management etc," she said. "Another funny question was where from the money was managed to build mausoleum of my late father Mufti Muhammad Sayeed. I told them (ED) that my father was a Union Home Minister and Chief Minister of J&K."
To a query about leader's leaving the party, she said: "They are being lured. Perhaps they have forgotten the conviction for which the PDP stands for. Or I believe, they see greener pastures on the other side. It's worrisome, but I have a bigger cause in front of me than the leaders."
About the cause she wants to pursue, the PDP chief said: "Other parties are changing the narrative by demanding statehood and not article 370. PDP will resist. When you stop resisting, when I say you (that means State), that means you stop existing. They (GoI) have snatched everything from us—the special status, the state, sand, contracts, jobs, land and all resources.". kno