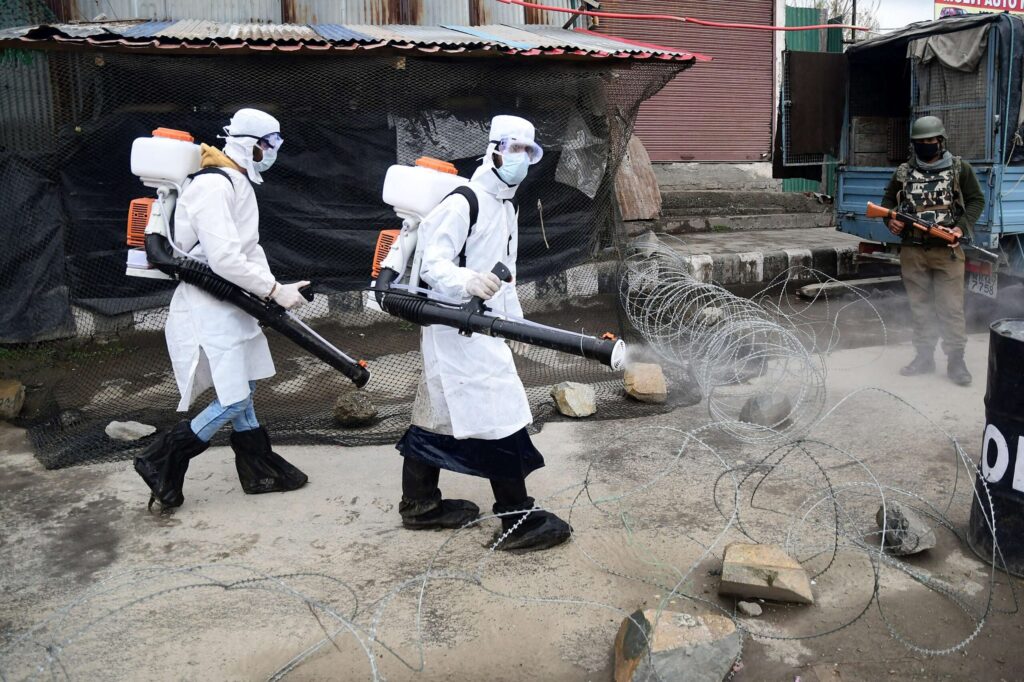 Srinagar, Mar 27: The worrying upward trend of the covid-19 cases continued as Jammu and Kashmir reported 271 fresh covid-19 infections, highest so far this year, in the last 24 hours during which one more person died due to the virus. This is for the second time in two days that J&K reported more than 200 cases and for the last 12 days, more than 100 cases were added to the tally which.
Among the 271 fresh cases, 75 cases were reported from Jammu Division and 196 from Kashmir valley, taking the overall tally to 129684.
Giving district wise details, they said, Srinagar reported 118 cases, Baramulla 42, Budgam 19, Pulwama 3, Kupwara 6, Anantnag 2, Bandipora 3, Ganderbal 0, Kulgam 1, Shopian 2, Jammu 56, Udhampur 1, Rajouri 0, Doda 2, Kathua 7, Samba 3, Kishtwar 0, Poonch 2, Ramban 4 and Reasi 0.
A number of these cases were confirmed at diagnostic laboratories of SKIMS Soura, CD hospital and GMC Anantnag.
The SKIMS cases include female (24) and male (23) from Safapora Ganderbal, male (28) from Nagbal Ganderbal, female (80) from Sehpora Ganderbal, male (22) from Khawaja Bagh Baramulla, female (70) from Zakura, female (35) from Nowshera, two males (15, 15) from Safakadal, male (33) from Soura, female (25) from Buchpora, male (26) from Soura, female (27) from Mallabagh, male (50) from Hafiz Bagh, male (66) from Malabagh, male (26) from SKIMS Srinagar, female (60) from Salia Anantnag and female (17) from Beerwah Budgam.
The CD cases include male (16) from Lalpora Zajikour, male (15) from Satoora, male (15) from Pinglish, male (15) from Machama, male (15) from Nahar, male (14) from Lorow Jagir, male (14) from Pinglish, male (14) from Tral, male (50) from Budgam, male (24) from Soura, male (18) from Muneerabad, male (45) from Batmaloo, male (36) from Mehjoor Nagar, male (28) from Chattabal, male (20) from Khayam, two males (42, 08) and female (14) from Badamwari, two females (55, 36) from Kadalbal Pampore, female (37) from Hazratbal, male (35) from Eidgah, male (80) from Batamaloo, male (60) from Tailbal Srg, female (NA) from Kunzer Baramulla, male (40) from Srinagar, male (NA) from Eidgah Srinagar, female (NA) from Munwarabad Srg, female (80) from Kreeri Kupwara, male (40) from Pulwama, male (60) from Handwara.
The GMC Anantnag cases include male (43) from Iqbalabad, male (30) from Shopian, female (30) from Shangus.
Moreover, they said, 138 more COVID-19 patients have recovered and were discharged from various hospitals—13 from Jammu Division and 125 from Kashmir Valley. Meanwhile out of 129684 positive cases, they said, 1813 are active positive—474 in Jammu and 1339 in Kashmir. 129684 people have recovered and 1985 have died—732 in Jammu and 1253 in Kashmir.