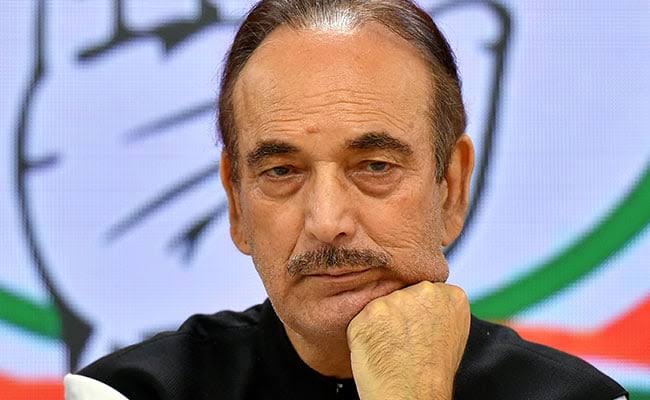 Srinagar, Feb 08: The former chief minister of Jammu and Kashmir and leader of opposition in Rajya Sabha, Ghulam Nabi Azad Monday said that the merging of UT cadre with AGMUT indicates central government's plan to keep it as UT permanently and there is need to restore statehood as no industry post bifurcation has come up.
Azad was addressing the house for the very last time as his tenure ended today. He was talking in response to the 2021 reorganization (Amendment) bill introduced in parliament last week by MoS Home GK Reddy.
He said that the Jammu and Kashmir in the past three years remained under Governor rule and now Lieutenant Governor ever since it became a UT and J&K cadre was operational.
"When the J&K cadre was already operational what is the need to merge this if the government want to restore the statehood in the next few months. It indicates that GOI wants J&K to be a UT permanently," he said.
Azad said that at the time of abrogation of Article- 370, some reasons were given including no development, lack of industries, and land to the business class who don't visit the region but with the UT development will take place.
The senior Congress leader said that the industries don't go to Kashmir given the winter for six months and being a remote place.
"Seven out of 10 districts in Jammu have no industry. No new industry is coming up while the 60 percent of the industries are closed and the development is on TV only," he said.
He said that Roads are dilapidated. "National highway is in worse condition remaining shut for four months (in a year). There is an increase in ceasefire violation during which people suffer huge losses," he said.
The former chief minister said that the employed have become unemployed while the unemployment graph has increased but if the elected government was there, situation would have been better. "It is important to restore the statehood of Jammu and Kashmir", he said.
He said that nothing was left in Article-370 other than no job for the outsider and no one could land in Jammu and Kashmir and these provisions existed since Maharaja Hari Singh back in 1925, years before the Indian independence. "In Jammu and Kashmir, there are only mountains and forests only having very little land", he said.
He further said that due to the uncertainty, no industry has come up in J&K other than the small scale that results in unemployment. "Give statehood to J&K. Conduct elections. J&K is a border area where tension looms large", Azad said.
"Don't make Kashmir guinea pig for experiments", he said and ended his speech with an Urdu verse hoping and hoped that in the next budget session statehood bill for Jammu and Kashmir is introduced".