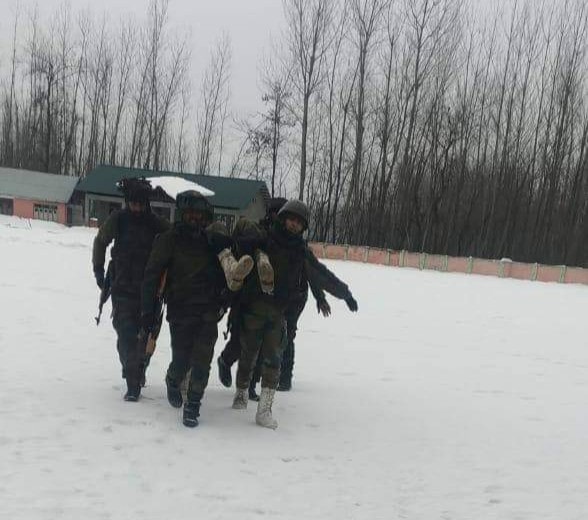 Srinagar, Jan 27: In a first militant attack this year, an Improvised Explosive Device (IED) blast left a soldier dead while three other sustained grievous injuries  in Shamsipora area along the Srinagar-Jammu highway in the Kulgam district.
A soldier was killed three others sustained injuries in an IED explosion at Subhanpora, Shamsipora in South Kashmir's Kulgam district, officials said.
They said that an IED was planted inside a school in Subhanpora locality of Shamsipora on Srinagar-Jammu highway in Kulgam. Today's IED explosion is first in year 2021, as per security officials.
Officials said that one among the four injured army men succumbed to his injuries at Army's 92 base hospital in Srinagar.
Earlier, four army men of an ROP of 24 RR were injured after an IED went off when they passed by a school in Subhanpora area of Kulgam.
They added that the school building also got damaged due to the IED blast that was planted inside the building. Later, a massive manhunt was launched to trace the militants
Meanwhile, Srinagar based defence spokesperson Col. Rajesh Kalia in a statement said that militants lobbed a grenade on Army's Road Opening Party during the sanitization drill at around 10:15 am today in Shamshipura area of Khanabal in Kulgam district. He said that four soldiers sustained splinter injuries.
A police statement said that at 10:15 am, Kulgam Police received information about an incident at Government Middle School Subhanpora area of Kulgam where an IED blast took place. Senior police officers reached the site of incident.
Preliminary investigation revealed that a rudimentary IED with a low powered explosive and ball bearings was planted in an abandoned building inside the school premises, where the army jawans used to visit on routine basis. "The IED was planted by militants probably during the night hours. In this incident, four soldiers of 24RR sustained injuries and were evacuated to nearby hospital for the treatment of their injuries. Among the injured one soldier jawan succumbed to his injuries. We pay our rich tributes to the martyr for his supreme sacrifice made in the line of duty," the police statement said.
It further said that a case FIR No. 05/2021 under relevant sections of law has been registered in Police Station Qaimoh. "Investigation is in progress and officers continue to work to establish the full circumstances of this terror crime. Area has been cordoned and search in the area is going on," the statement said.