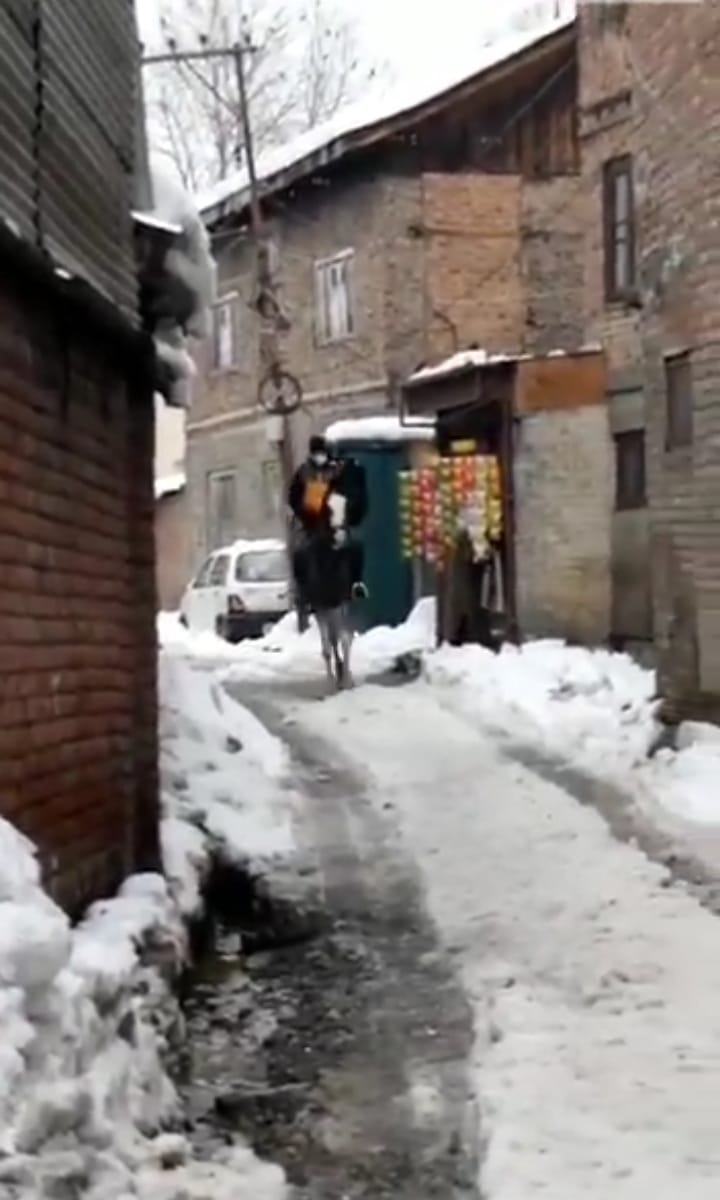 Srinagar, Jan 13: Social media users in Kashmir have gone gaga over a viral video showing delivery boy of US-based e-commerce giant 'Amazon', travelling on horseback to deliver parcels' amid snow-clogged roads in a locality in central-Kashmir's Srinagar district.
The video, with theme song of Amazon India in the background, shared by a Kashmir-based journalist Umar Ganie on his twitter account (@UmarGanie1) captioned "Amazon delivery innovation" has been retweeted over 430 times even as garnering over twenty-one hundred likes so far.
While many netizens were left 'amazing' for one of a rare sight(s) in the city centre for quite a while now, a considerable number of social media users hailed and in the meantime tagged Amazon India and the global shopping facilitator company's owner Jeff Bezos to check 'determination', 'dedication' and 'commitment' of the delivery boy, to ensure that parcels reach intended customers on time.
Amid a flurry of retweets on the viral video; one user wrote "Determination of a guy, should be given one time benefit", retweeted a user.
"@amazon should check this out. Only in Kashmir. Dedication", reads another quoted tweet.
"#amazon @amazon for your information and confirmation/reward", a retweet reads.
"This boy deserves appreciation and @amazonIN should reward the commitment of this delivery boy", a retweet reads.
"Where there is a will there is a way. #AmazonIndia @amazonIN @amazon", reads a another retweet on the viral video.
In a sarcastic quoted tweet a user wrote, "Aache din aaaany waaaly hai. Don't know for others but surely for srinagar and @amazonIN @amazon @JeffBezos"
In a somewhat similar tone another user wrote "Nice advertisement.
And yes this is not innovation, rather helplessness that too in 21st century ad with few inches of snow."
"@amazonIN @AmazonHelp he deserves a raise, for he has an extra stomach to feed!"
Besides Twitter, popular social media app, Facebook was equally abuzz with video clips shared on different pages and personal accounts to cherish the 'rare and amazing' sight of the youth with a horse in heart of city, to ensure timely dispensation of parcels to customers.
Pertinent to mention here that the video has seemingly garnered more reaction as the lanes and by-lanes even in summer capital Srinagar remained inaccessible to residents for many days altogether in the aftermath of, what the MeT department called, 'heavy snowfall' across Valley. (GNS)