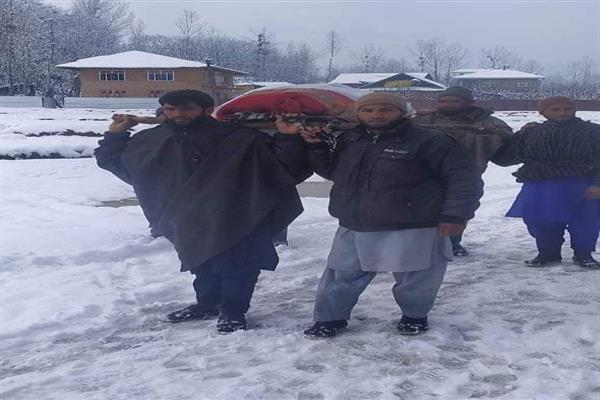 Baramulla January 3: A Pregnant woman from Doniwari Rafiabad was today carried by youth on Cot to hospital when she developed Labor Pain amid seven inch Snow accumulated on road.
People alleged that the seven inch snow which accumulated on roads was not cleared by the administration. They said it was the reason no vehicle could ply on the road and the patient has to be taken to hospital on cot.
They accused hospital administration of showing callousness in clearing the snow from the roads.
When contacted Block Medical Officer Dangiwacha Dr Irfan, he said , "we send the ambulance to bring the patients but it was slippery due to snow and the ambulance could not reach to the spot latter the patient got the private vehicles Jeep 4×4 at Ravoosa to reach the hospital and both mother and child are safe."(KNS)