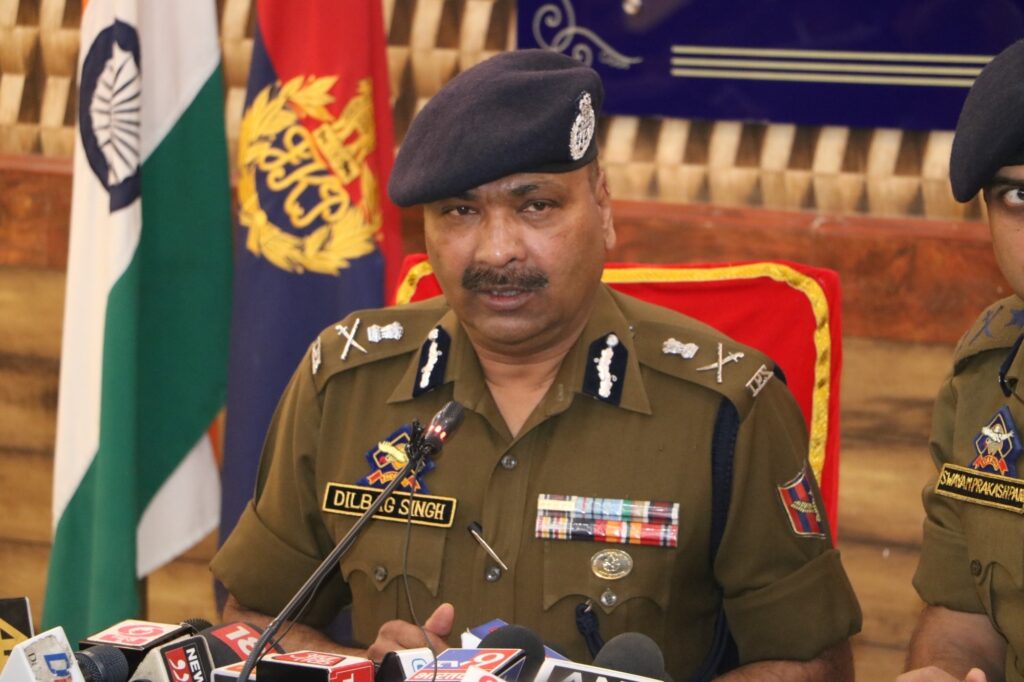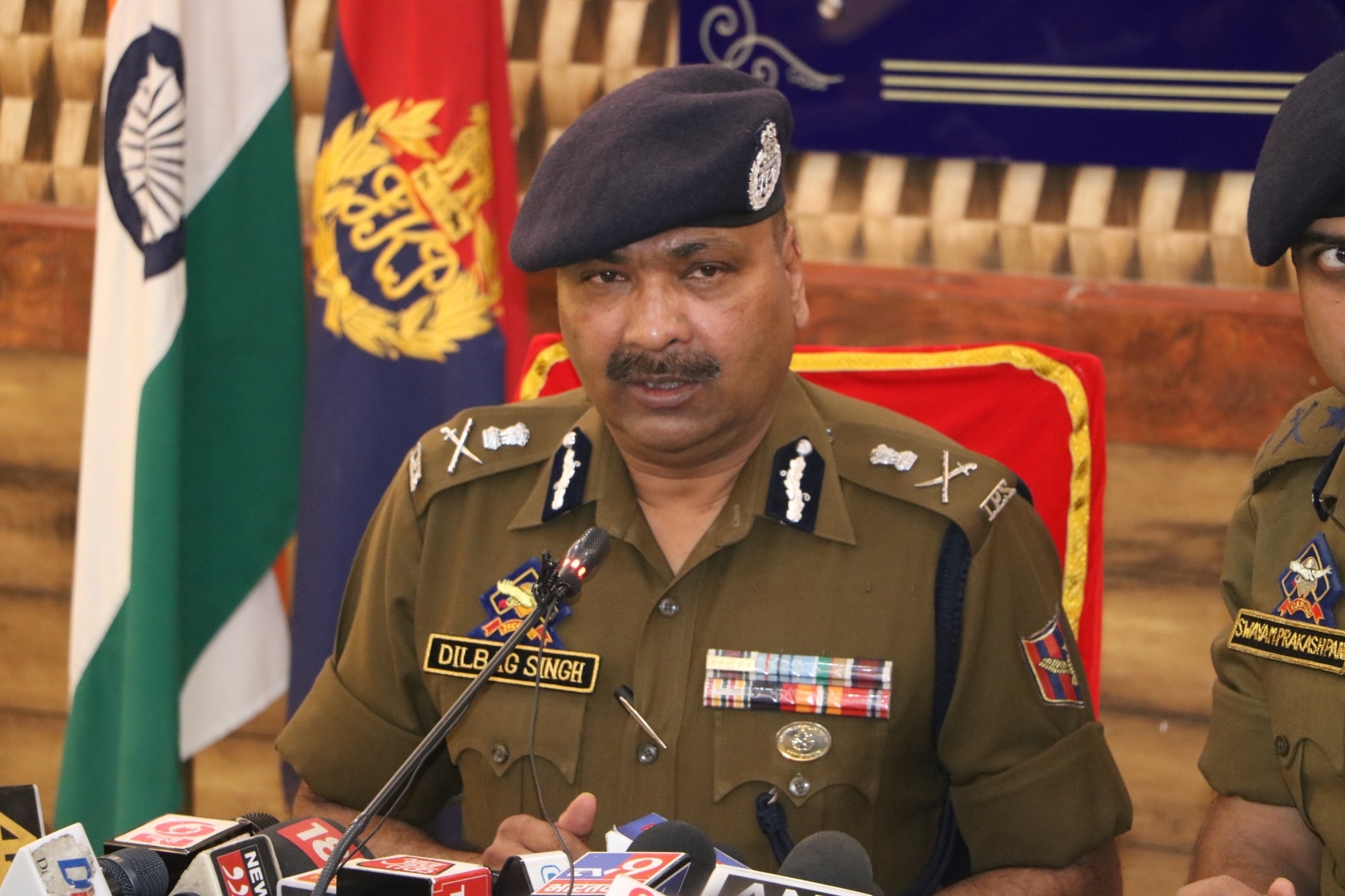 Jammu, Dec 31: Terming the year-2020 as a year of confidence for the security forces, J&K Director General of Police (DGP) Dilbagh Singh Thursday said that in the year about say good-bye witnessed over 100 anti-militancy operations were conducted that saw killing of 225 militants including 46 top commanders of various outfits.
He said at present, almost all the militant outfits are facing "leadership crisis" while there are a few commanders who are on the radar of police and security forces and will be "tracked down soon."
Addressing an annual press conference in Jammu, the DGP Singh said that the year 2020 was a year of confidence for the police and other security forces due to many positive things that happened.
ANTI-MILITANCY OPS: "We conducted 103 anti-militancy operations in J&K in the year 2020 of which 90 were witnessed in Kashmir and 13 in Jammu. 225 militants were killed in these operations of which 207 were killed in Kashmir and 18 in Jammu. The slain include 46 top commanders of various militant outfits who were either of A++ or A+ category," the DGP said.
He said that all the militant outfits are leaderless while a few militant commanders are surviving, who are on police and security forces' radar and will be tracked soon.
LOCAL MILITANT RECRUITMENT: The DGP Singh said year 2020 saw an increase in the local militant recruitment compared to last year. "But it is less than year 2018. The important thing is that 70 percent of those who joined militancy got either killed or were arrested. 46 militants were arrested after joining militancy while 76 newly recruited militants got killed in various anti-militancy operations," he said. "The shelf-life of militants is very less. It is between three days to three months only."
CIVILIAN KILLINGS: In 2020, 38 civilians including political activists were killed compared to 38 last year. "Most of these killings took place when the election process was started," the J&K Police chief said as per KNO.
CEASEFIRE VIOLATIONS: The J&K DGP said that year 2020 saw highest ever ceasefire violations along the LoC in UT. "This was used as tool by our neighbour to push in militants into this side. However, every ceasefire violation got a befitting reply by our security forces," he said. The year bidding adieu to us saw less infiltration compared to past few years and that's why the "our neighbor focus on raising the local militant recruitment and choose aerial route to drop weapons, drugs and cash." "Drones were used along the LoC to drop cash, weapons, and even drugs to promote militancy," the DGP said. "We have been able to foil the majority of the attempts that were aimed at dropping weapon consignments through drones."
MILITANT MODULES BUSTED:  The DGP said that 36 militant modules were bused in 2020 while as 100 people associated with these modules who were tasked to provide logistic support, shifting of weapons from one place to another, grenade lobbing etc, were arrested.
LAW AND ORDER SITUATION:  In 2020, there was a significant improvement on the law and order front as the year saw lowest level of law and order related incidents. "There has been 75 percent dip in the law and order related incidents this year as only 143 incidents of law and order (with less intensity) were witnessed in Kashmir compared to 584 last year," the DGP said. "There was zero causality in the law and order incidents in the year 2020. Last year two people had died in the protests just because of their over excitement." He said in year 2020, there was almost zero collateral damage barring a single incident at Batamaloo area of Srinagar where a woman got killed in cross fire during an encounter.
SURRENDERS: The DGP said that 12 militants surrendered in year 2020 during live encounters, for the first time. "Even yesterday at Lawaypora encounter, one boy tried to surrender, but his associates fired and he couldn't come out," the J&K Police chief said.
COVID-19: The J&K police chief said that Covid-19 pandemic emerged as a bi challenge for the police in 2020. "Despite less preparedness, police took an active part in serving the people in different ways. Fifteen policemen lost their lives due to Covid and they will be remembered as Covid martyrs while 3500 got infected with the virus. At present, there are not more than 50 to60 policemen who are in positive state of virus," he said.
DRUGS:  The J&K police chief said that 152 quintals of Heroine was seized in various raids in the UT while as 35 persons were booked under PSA. "Huge quantity of charas, intoxicating capsules and bottles were also seized," he said. The DGP said that in total 26889 cases related to various crimes were registered in J&K of which 13000 were reported in Jammu and equal number in Kashmir.
DDC POLLS: "The DDC polls coupled with BDC and ULB elections, were the largest ever democratic exercise conducted in J&K's history. Efforts were made to disrupt the polls by sending groups from across. One such group was eliminated in Nagrota and another in Poshana. Six grenades were lobbed in Kashmir, but the exercise was completed in a peaceful manner," he said—(KNO)