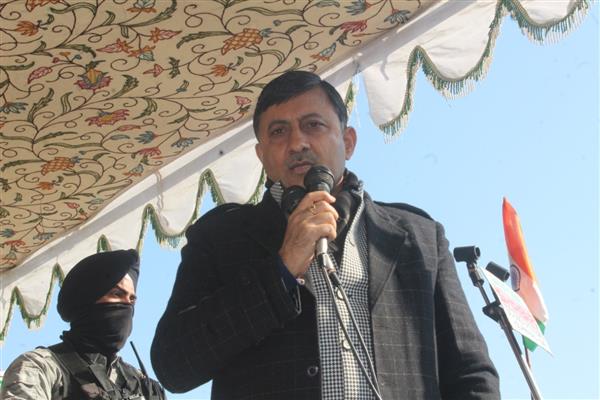 Srinagar, Dec 18 : BJP General Secretary and Kashmir Affairs Incharge Vibodh Gupta Friday slammed PAGD for making Kashmir popular for "stone pelting", saying Kashmiri's have conveyed strong message to alliance, ISI and international community they they need only development which was disallowed from last seventy years by parties having belief in dynastic rule.
Gupta lashed out at People's Alliance for Gupkar Declaration (PAGD) over making Kashmir famous for "stone pelting" & "violence" and asserted that BJP has succeeded in making inroads in every polling booth across Jammu and Kashmir.
He said it was BJP's flag which was hoisting in every town and village during ongoing DDC polls which clearly vindicates that regional mainstream parties have frightened from our presence.
The BJP leader said that people came out in large numbers during DDC polls which is a clear message to PAGD, ISI and international community that Kashmiri's are fed up from "stone pelting" & " violence" and want to prosper and shine while ensuring development at grassroots level.
He added that it is a victory of democracy that people participated in DDC polls with good numbers and gave a tight slap to the agenda of PAGD.
Gupta continued that militancy in valley is on "death bed" and people in a unanimous voice have rejected violence. He added that NC, PDP and Congress like parties had distorted the image of Kashmir and had made it famous for "stone pelting".
"There is Dal lake, Gulmarg, Pahalgam, bat industry, apple industry, saffron, pashmina and others but parties of PAGD had made Kashmir famous only for stone pelting and violence", Gupta added. (KNS)