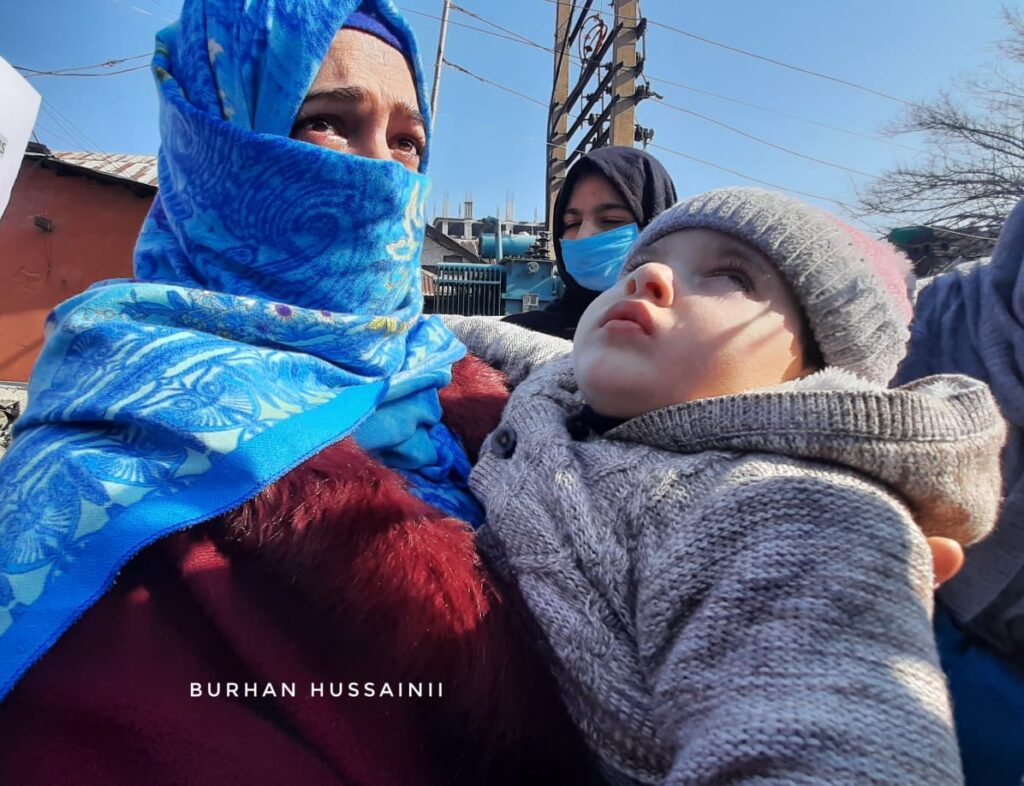 Srinagar, Dec 15: A Srinagar family Tuesday staged a protest in Kashmir capital Srinagar accusing a private hospital of damaging the brain of a 14 months old baby after administering her overdose of anesthesia.
The baby girl has been identified as Zikra Farooq Bhat of Aali Kadal Srinagar and the hospital in question is A.S.G Eye Hospital located in Qamarwari Srinagar.
The family members assembled in Press Enclave Srinagar. They were carrying placards seeking justice and action against the hospital authorities.
The parents of the victim girl told Kashmir News Trust that their baby girl was suffering from an eye disease.
In this regard she was taken to A.S.G Eye Hospital wherein one Dr Aadil and Dr. Ahsan-ul-Haq persuaded the parents to get their daughter injected (in or near the eye). On the fateful day (29 April, 2019) the doctors after persuading the family administered anesthesia to the baby girl and the overdose of it rendered the baby unconscious. The doctors had assured the parents that the injection and all the related procedures will take no more than 10 minutes but it took them an hour. As the baby was handed over to her mother, she immediately sensed something grossly wrong with her daughter. The doctors denied any fault on their part.
As a result, the parents rushed to SKIMS along with their baby wherein she was immediately admitted to the I.C.U. If all this wasn't enough for the distressed family, they were compelled to take the patient (baby girl) to Chandigarh, a representative from ASG Hospital Srinagar was also with them, and here the doctors rebuked the representative from ASG Srinagar for gross negligence.
The girl has still not recovered and is suffering from brain-palsy. The parents of the girl have utilized enormous amount of their wealth for the treatment of the child.
"We strongly demand a probe into the incident and ask the authorities to take action against 'doctors' who are still adamant at are not accepting there mistake. We demand a probe in this case, and whoever is found guilty should be punished accordingly." (KNT)