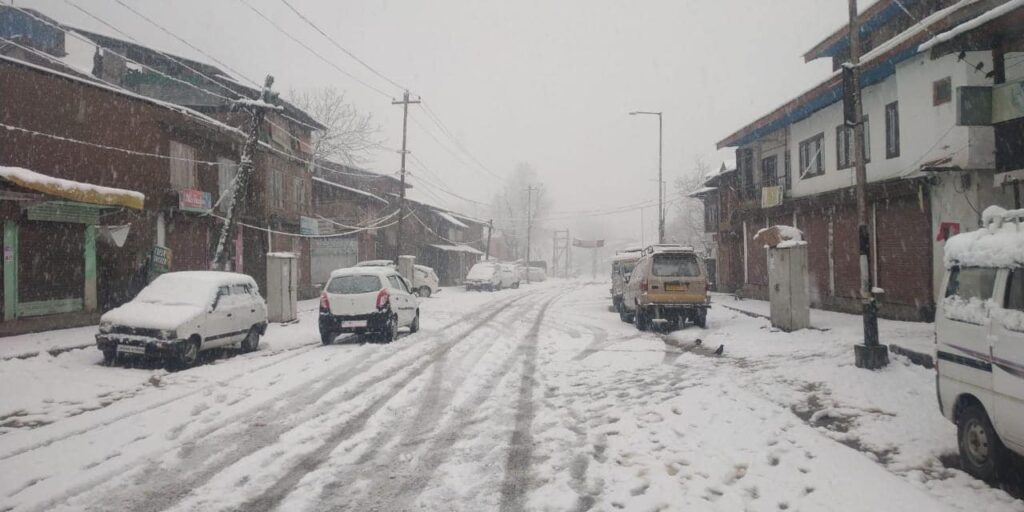 Srinagar, Dec 09: The weather conditions improved across Valley while Drass, Sonamar areas continued to receive snowfall for the second consecutive day on Wednesday.
The weatherman, however, predicted fresh snow spell across J&K and Ladakh from December 11 evening.
Although the weather remained cloudy throughout the day in plains as well as higher reaches of the Valley, the officials in the Meteorological department informed that Drass, Sonamarg, Gumad and other adjacent areas received snowfall today as well.
MeT's Deputy Director, Mukhtar Ahmadsaid that the weather would remain mainly dry on December 10-December 11 evening across J&K and Ladakh, adding that there are less chances of wet spell during the period in higher reaches.
He added from December 11 evening to December 12 afternoon, there is possibility of light to moderate rains, snowfall across J&K and Ladakh.
Ahmad informed that the night temperature across Kashmir has increased due to the fresh snowfall and rainfall while the day temperature has gone down in the Valley.
Meanwhile, the Disaster Management Authority has issued a high danger (Orange Alert) avalanche warning for higher reaches of Bandipora District particularly Gurez Tehsil.
"Medium Danger (Yellow Alert) avalanche warning for higher reaches of Poonch, Kishtwar, Kupwara, Ganderbal and Kargil Districts and Low Level (Yellow Alert) Avalanche warning for upper  reaches of Ramban, Anantnag, Kulgam , Baramulla and Leh," officials said, adding that the people living in these areas have been cautioned not to venture in the Avalanche prone areas for the next 24 hours.
Major roads and highway in the Valley continued to remain closed for the second straight day. The Srinagar-Leh highway as per the officials continued to remain closed today for the vehicular movement.
Official statement issued by the traffic department stated that in view of inclement weather prediction issued by MeT department (rain and snowfall) in J&K for next few days, there are chances of blockade of highway, thus the people are advised to avoid journey on Jammu-Srinagar highway.
However, subject to fair weather and better road condition, Light Motor Vehicles (passenger) shall be allowed from Jammu towards Srinagar tomorrow while commuters are advised to follow the SOP issued by the government to prevent the spread of COVID-19.
The statement urged security forces not to ply against advisory, traffic plan in view of traffic congestion on Jammu-Srinagar highway. "They may ply from Jammu towards Srinagar," the statement said.
Pertinently, there shall be no traffic movement on Jammu-Srinagar highway on Friday from either side in view of maintenance, repairing of the road.
Meanwhile, officials said that the Mughal road also remained closed today for the vehicular movement due to snow accumulation.