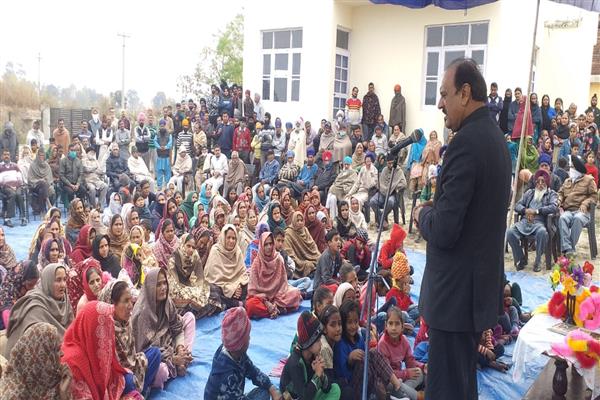 VIJAYPUR DECEMBER 08 – Former minister and senior National Conference leader  Surjeet Singh Slathia said that Jammu's aspirations had to be taken care of with thrust on development and jobs to educated unemployed.
"Jammu has distinct urges and developmental aspirations, these can neither be neglected nor relegated", Mr Slathia said while addressing election rallies at village Kajyal, Khanpur, Pakhri Barota, Kesso Karmore Dug Chack Salarian Barbral Nanga and Rarian in Vijaypur Assembly Constituency in support of the party candidates in the ongoing District Development Council elections.
Jammu has all along played crucial role of unifier and shown immense political sagacity in maintaining high traditions of amity and brotherhood, even during most testing times, Mr Slathia said adding that this unique characteristic is unparalleled.
He said Jammu has suffered during recent years as development witnessed grinding halt due to lack of vision of those governing. He said that unemployment among educated youth, as also skilled and unskilled workforce, accumulated and took alarming proportions because of apathy of those at the helm.
"This trend has to be reversed by undertaking holistic development especially in rural and remote areas. The utility services are needed to be upgraded and put in place as per requirements of the people. Focus must be given on the completion of ongoing works in a time bound manner. The delays have not only resulted in cost escalation but also denied the people of timely benefits of schemes, he said, adding that a course correction is needed for putting the province on the right developmental track," he said
Slathia said time had come when Jammu should rise above party politics and assert its legitimate rights with thrust on fair distribution of funds and share in jobs. He said Jammu and Kashmir will prosper and progress only when all its regions and sub- regions get due share and equal opportunities in all the fields. The justice should not only be done but it should also appear to have been dispensed judiciously, he maintained.
He referred to peculiar problems of various areas in the Vijaypur Assembly Constituency, especially hilly, remote and border belts, saying multi-pronged strategy is required to be adopted to ensure equitable development.