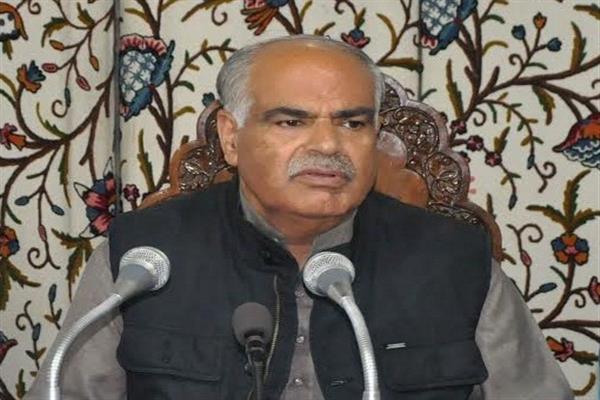 Baramulla Dec 03: Bharatiya Janata Party (BJP) General Secretary (Org) Ashok Koul has said that DDC elections have nothing to do with Article 370 or 35-A.
The BJP leader along with party leader Darakhshan Andrabi addressed rallies in Rafiabad area of and sought votes for the BJP candidates contesting DDC elections in the area.
Speaking on the occasion Ashok Koul said that it was surprising that the Gupkaries are fighting District Development Council (DDC) elections on the agenda of restoration of Article 370 and 35 A for J&K and nullify the bifurcation of the state.
"How can a DDC Councilor restore the Special Status of J&K? This is the politics they have been doing for seven decades, building castles in air and exploiting public on hollow slogans", said BJP General Secretary.
Reacting sharply to the statement of the PDP Chief on a TV channel about the Common Minimum Programme of BJP-PDP government,
BJP Spokesperson Darakhshan Andrabi said that selling lies has been the agenda of the politics in J&K for decades. She said that the CMP of the PDP-BJP government never included encouragement of hooligans who used to disrupt valley by throwing stones on roads and bastis and putting life on halt by injuring and killing people.
"The political change in J&K is permanent and the Supreme Court will mirror to this extortionist gang forever. J&K can never get back the special status by twisting & presenting everything on communal grounds. The special status means special development, special living opportunities and the new J&K is conducive for all this special happening in J&K in the days to come," said Dr Darakhshan.