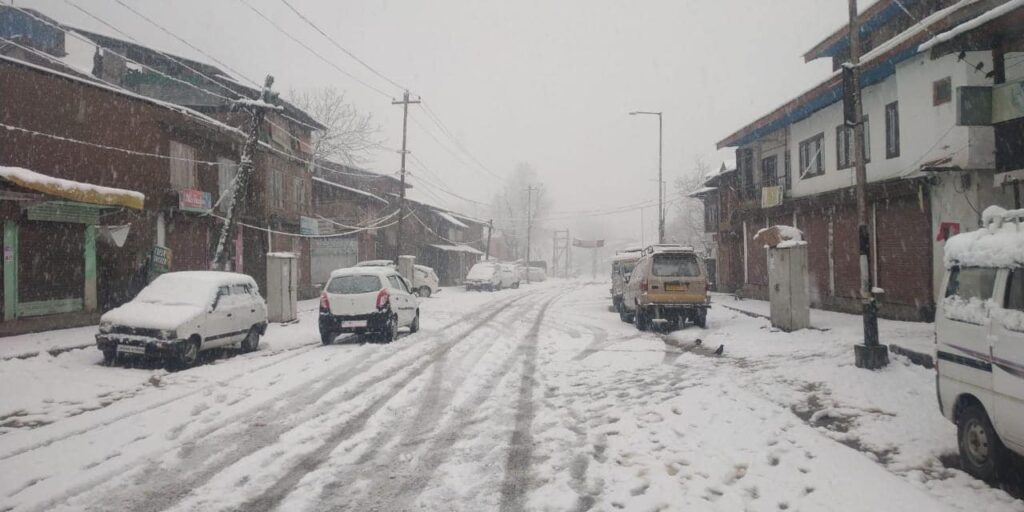 Srinagar, Nov 23: The higher reaches of the Valley experienced fresh snowfall while the plains received rains on Monday, bringing the temperature further down in Kashmir.
The local Meteorological department here has predicted more snow and rains till November Wednesday evening.
Higher reaches of the Valley including the world famous ski-resort Gulmarg has received fresh snowfall since last evening.
Many of the tourist destinations including Gulmarg received fresh snowfall, an official in the MeT department said.
MeT's Deputy Director, Mukhtar Ahmad said that the present weather conditions would prevail across the Valley till Wednesday evening.
He said that the weather would remain mostly cloudy on Tuesday while there is possibility of light rains and snowfall as well. Ahmad also stated that on Wednesday, the department is predicting more snow and rains.
Ahmad said that the weather conditions would improve across the Valley from Wednesday evening.
He also stated that from November 26-December 02, there is no forecast of rain or snow in the Valley.
On the other hand, Srinagar-Jammu highway, the only road that connects Valley with rest of the States, witnessed frequent closures today. "The highway remained almost open for the vehicular movement, but sometimes the vehicles were being stopped as a precautionary measure and for the clearance of road amid the snowfall as well as the rains," an official in the traffic department said.
The officials in the department said that subject to the weather conditions, the light motor vehicles will be allowed to ply tomorrow from Jammu towards Srinagar on the highway.
Meanwhile, Mughal road was closed for the vehicular movement today by the authorities.
The 434-km Srinagar-Leh highway was also closed for vehicular movement due to fresh snowfall at Zojila Pass.
An official said that on Sunday evening, the higher reaches of Kashmir including Sonamarg received fresh snowfall. He said that due to the fresh snowfall at Sonamarg, Mani Marg, Drass and Zojila, the authorities have suspended traffic movement on the highway as a precautionary measure.
As per local reports, some vehicles are stranded in Sonamarg area after the road was closed.
Authorities this morning also closed 86 Km Bandipora—Gurez road following fresh snowfall across Gurez Valley in north Kashmir's Bandipora district.
An official said that the road was closed today morning after fresh snowfall across Gurez including Razdan Top. He said that keeping in view slippery conditions and fresh snowfall, the Bandipora—Gurez road has been closed as a precautionary measure.
Notably, the road was thrown open for one way traffic movement just a few days ago after hectic efforts by the authorities. Pertinently, the road usually remains closed during winter months due to heavy snowfall in the area—(KNO)