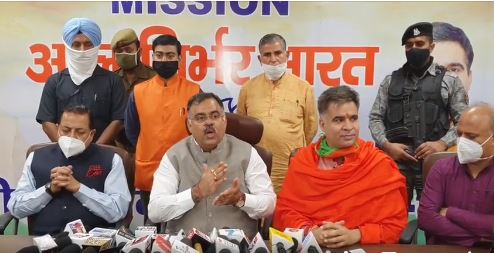 Srinagar, Nov 17: Bhartiya Janata Party (BJP) General Secretary Tarun Chug Tuesday checked the party pulse after getting a fresh feedback on the candidates to be fielded in the upcoming District Development Council (DDC) polls and by-elections for the vacant seats of panchayats in J&K. Chug asked the party men not to pay heed to what he called "Gupkar Gang" and instead focus on polls and to ensure maximum seats are bagged by the party.
Chug, who replaced Ram Madhav, recently as the BJP General Secretary, arrived in Srinagar early this morning, and chaired a crucial meeting of party cadre including the contesting candidates of DDC seats and also those fighting for the vacant seats of Panchayats.
Sources privy to the meeting said  that Chug sought feedback from the party leaders about the present status of BJP election strategy.
"He sought feedback from the party leadership about the number of candidates being fielded for the DDC polls," they said, adding, "Chug was briefed about the poll strategy being adopted and the recent announcements made by PAGD."
A BJP leader present in the meeting said that Chug passed series of directions to BJP leaders asking them not to pay heed to the PAGD and instead focus on DDC seats.
"He told us to march ahead, and to put in maximum efforts to win more and more seats," he said, adding that, "Chug stressed on strengthening party in every district and to ensure victory of maximum seats."
Pertinently, BJP has decided to field candidates on all seats. DDC Polls will complete the three-tier Panchayat Raj System in J&K—(KNO)