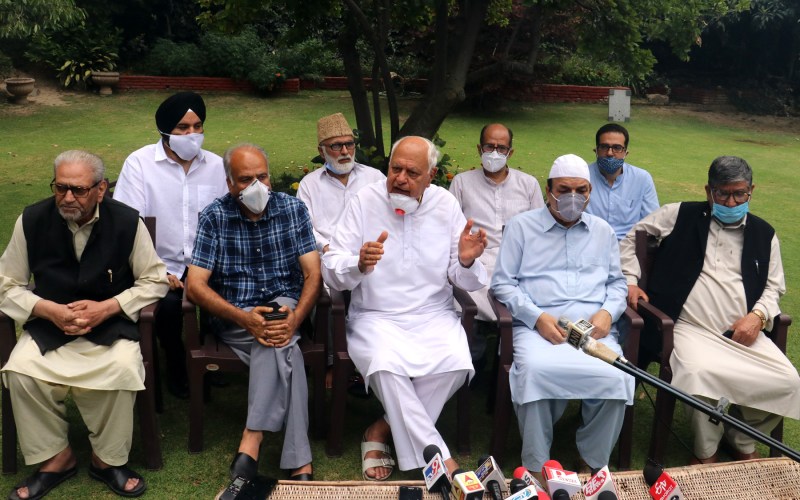 Srinagar, November 15: People's Alliance for Gupkar Declaration (PAGD) has authorized PDP Chief Mehbooba Mufti to select seats of her choosing in the upcoming District Development Council (DDC)  Polls.
The decision was taken today at a meeting of the amalgam chaired by Dr Farooq Abdullah at his residence.
The meeting was called by Dr Farooq Abdullah after reported fissures in PAGD was carried by a section of media regarding the seat sharing agreement over the issuance of the first list of Candidates.
The cracks in the PAGD alliance were blown up with the resignation of PDP patron Muzaffar Hussain Beigh yesterday.
Beigh had alleged NC of taking lion's share and accused PDP of maintaining silence over the issue.
A top senior leader, who was part of the meeting said that Mehbooba Mufti had initially skipped the meeting without giving any reason.
" When she was telephoned to attend the meeting after everyone had arrived at Abdullah's residence. She conveyed the alliance constituents that she is with every decision whatever will be taken in the meeting," he said.
Later, Dr Farooq Abdullah personally invited her for the meeting and was informed to select seats of her choosing for upcoming polls, he said.
The members reaffirmed of furthering the cause of PAGD beyond the polls and stressed on the unity at the critical juncture, sources said.
When contacted Dr Farooq Abdullah about the rumors' regarding fissures in the alliance, he said, "There are not even rumours. Everything is fine."
General Secretary PDP Ghulam Nabi Lone Hanjura clarified that there are no issues between alliance partners.
"We had meeting sometime back. Earlier Mehbooba G had meeting of alliance. Seat sharing on DDC is not important to us. We are fighting for a bigger cause. Our fight is to get status of pre-August 5 2019 back."
Without naming anyone, he also said those who leave parties on seat sharing basis are "selfish people".(KNS)