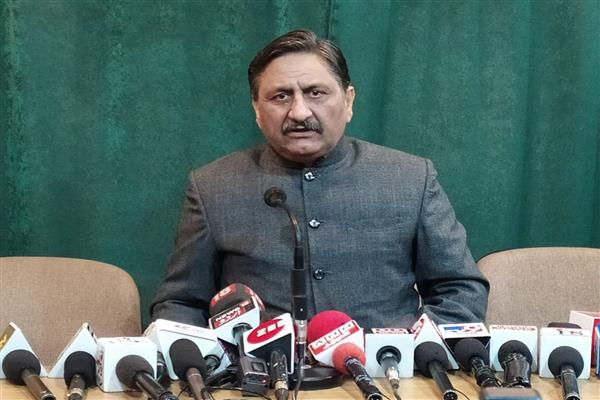 Srinagar, Nov 10: Bhartiya Janta Party leader Ashwani Kumar Chrangoo on Tuesday launched "Kashmir Sankalp Yatra" from Srinagar and said with the introduction of new land laws in J&K, the Union Territory integrated completely with rest of India.
Addressing a press conference in Press Club Kashmir here, Chrangoo who is a Kashmir Pandit leader said that the Yatra will be resumed after Deepawali festival from Jammu and will include all sections of the Union Territory of Jammu and Kashmir.
Chrangoo added that since after the abrogation of Article 370 & 35A followed by the introduction of the new land laws in J&K the process of integration is complete, the whole focus should be now on development of the UT and providing job opportunities to the youth of the UT.
He further added the development of the UT is linked with complete peace in the UT, therefore militancy needs to be finished from the entire UT with firmness and commitment by the government.
Neutralization of militancy is incidental to the establishment of peace in the Kashmir valley, BJP leader said
Taking the issue of rehabilitation of Kashmiri Pandits, BJP leader said that the issue of resettlement of the displaced Kashmiri Pandit community in Kashmir valley needs attention.
Charangoo said the rhetoric that 'Kashmir is incomplete without Kashmiri Pandits' needs to be converted into reality.
"In this context, establishment of a Board for all Hindu religious and cultural centers, temples and shrines and constitution of a 'Special Crimes Tribunal' to probe into the excesses committed against the minorities in the state are prelude to the return of the displaced Pandits to Kashmir valley as per their geo-political aspirations," BJP leader said.
The government of the UT headed by the Lt. Governor is requested to initiate the required action in this connection, he added.