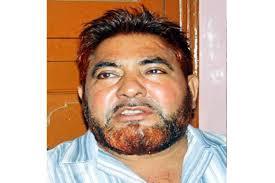 Srinagar, Nov 5: Former Ikhwani (government gunman) Papa Kishtwari who was accused of murdering many civilians died at a hospital here, officials said on Thursday.
Official sources said that Ghulam Muhammad Lone alias Papa Kishtwari alias Mumma Lone died at police hospital Srinagar where he was taken from central jail today. "He was unwell for quite some time and was undergoing regular checks up. Today he had a cardiac arrest and later died," the official sources added.
Papa Kishtawari was an alleged notorious renegade who hails from north Kashmir's Bandipore district and was a tenant in Pampore. He owes his alias Kishtwari to his wife who hails from Kishtiwar district of Jammu region.
Papa Kishtwari was arrested in 2008 in a case pertaining to land grab of a local graveyard and was later arrested when his cronies opened fire on protestors and injured two local residents.
Kashtwari was allegedly involved in a number of killings especially in south Kashmir's Pampore town.
One among the cases in which he was an accused pertains to one Ali Muhammad Mir, a contractor from Nishat. His son Zahoor Ahmad Mir had lodged a case in the police Station Nishat, accusing Kishtwari of being involved in the disappearance and murder of his father.
He had alleged that after picking up his father on the 29th October 1996, he was killed on the same night at Frestabal, Pampore by Kishtwari's men on his directions and his body was thrown into river Jehlum. After 11 years of refusal, FIR (16/2007) was registered in Police Station Nishat on March 2 2007. (GNS)