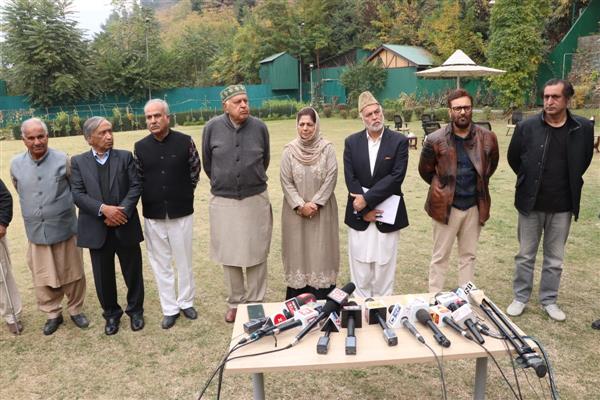 Srinagar, Nov 04: The forthcoming meetings of People's Alliance for Gupkar Declaration (PAGD) is scheduled to be held on Nov 7 in Jammu wherein deliberations about strengthening of movement for restoration of Article 370 will be deliberated upon, sources said.
Sources who are part of the alliance said that the meeting will be conducted at Dr Farooq Abdullah's residence in Bhatindi who will also head the meet.
They said the participants of the meeting will take on the political and economical situation across Jammu and Kashmir post abrogation of Article 370.
They added at the occasion confidence of Jammu based leadership who had expressed their concern over depriving J&K from its special rights it enjoyed before August 5, 2019 will also be taken into account.
Sources added that during meeting a concrete strategy will be adopted for strengthening the movement for restoration of Article 370. "Our rights were snatched forcibly by New Delhi last year which needs a collective fight to get these rights returned. Jammu meeting is an endeavour in this regard to consolidate the consensus and movement as well", they added.
Notably NC, PDP, PC, ANC CPIM, six regional mainstream political parties had formed an Alliance day before Central Government revoked Article 370 and divided the state into two UTs – Jammu & Kashmir and Ladakh. The Alliance has so far held several meetings and avowed that fight for restoration of Article 370 will continue till its logical end. (KNS)