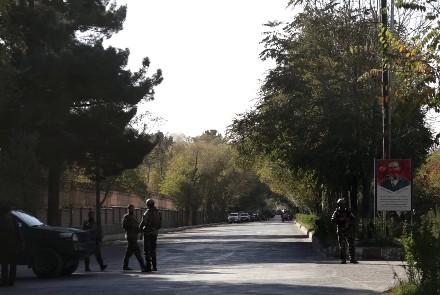 Kabul, Nov 2: A complex attack on Kabul University, one of the biggest higher education institutions in the country, ended after six hours when all three attackers were killed, the Interior Affairs Ministry said, Tolo news reported
The attack started at around 11:00 am on Monday morning when three attackers entered the university compound and moved towards a training center at Law Faculty that was apparently their main target as security sources put it.
The Law Faculty is near the eastern gate of the university from where the attackers entered the compound, the report said.
The Interior Affairs Ministry's spokesman Tariq Arian said the attack left 19 dead and 22 others wounded.
This was the second attack on education institutions in the last 10 days. A week ago, a suicide bombing near a tutoring center killed over 30 people, most of them students, the report said.
Some eyewitnesses said the attackers entered classrooms and opened fire at students and professors at the training center of the Law Faculty.
Sources also said that five attackers were involved in the attack.
Hundreds of students as well as professors were at the university when the attack happened. Many students escaped the university through its surrounding walls, it said.
"What we saw there was horrific. They were shooting at everyone they faced," an eyewitness said.
"All my classmates were stained in blood. They were wounded. I was hidden somewhere in the classroom. I survived but 14 of our classmates might be either killed or wounded," an eyewitness said.
Videos on social media and those captured by TOLOnews journalists showed students screaming and fleeing the compound for the search of safety. Photos on social media showed students killed and wounded in their classes.
The attack was widely condemned by the Afghan leaders and foreign diplomats as horrific and inhuman.
Many parents were waiting outside the university shortly after the attack to know about the fate of their loved ones.
"I am trying to contact him, but I couldn't reach him. He has sent me a message and has said that he has hidden somewhere," said Mohibullah, relative of a student.