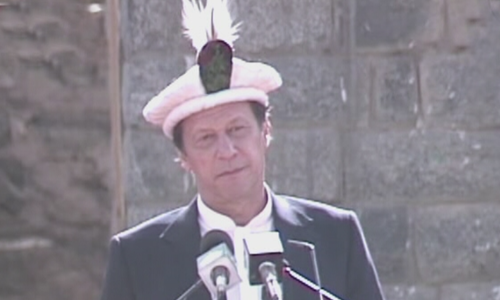 Islamabad, Nov 1: Prime Minister Imran Khan says the government has decided to give provisional provincial status to Gilgit-Baltistan keeping in view the UN Security Council (UNSC) resolutions, Radio Pakistan reported
He was addressing the Azadi Parade ceremony in connection with the 73rd Independence Day of Gilgit-Baltistan in Gilgit on Sunday.
"The Prime Minister paid tribute to Gilgit Scouts and martyrs who sacrifices their lives for the liberation of this region," the report said.
"He also lauded the role of Pakistan's security forces for successfully combating the war against terrorism and foiling attempts by the enemies to destabilize the country".
Imran Khan said terrorism is being carried out in our country under a plan and our valiant security forces are standing against it and rendering their lives for the defence of motherland.
He said a strong army is indispensable for a country to protect its sovereignty and solidarity.
"Modi government in India is the most extremist government and they are pursing the Hindutva ideology, perpetrating brutalities on innocent Kashmiri people," Imran Khan said
The Prime Minister said rule of "law is vital for progress and prosperity of Pakistan and those who want to discredit Pakistan Army and judiciary they are speaking the language of Modi".
He said the government is focusing on development of all backward areas of the country.
Earlier, addressing the ceremony, the Caretaker Chief Minister of Gilgit-Baltistan Mir Afzal Khan said armed forces of Pakistan have rendered lives for the security of the country.
He also paid tribute to martyrs of Gilgit-Baltistan who sacrificed their lives for independence.
"The Governor of Gilgit-Baltistan Raja Jalal Hussain Maqpoon in his remarks said Independence Day of Gilgit-Baltistan reminds us the sacrifices of our martyrs," the report said.
H