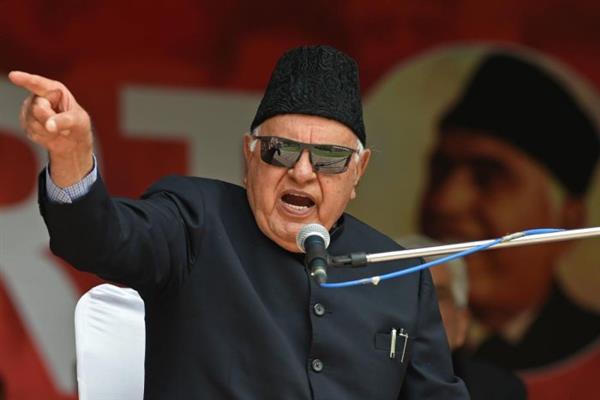 Srinagar, October 30: National Conference (NC) has said that former chief minister, Parliamentarian and party leader, Farooq Abdulla has been stopped from offering prayers at Hazratbal.   
"J&K administration has blocked the residence of Party President Dr Farooq Abdullah and stopped him from offering prayers at Dargah Hazratbal. JKNC condemns this infringement of fundamental right to pray, especially on the auspicious occasion of Milad Un Nabi SAW," NC said in a tweet.
Later Abdullah talking to news agency KNS said that oppression is being committed against Muslims.
"They don't allow me to offer prayers. And today was a revered day. They are oppressing Muslims."
He added that Gupkar Alliance leaders are meeting cross section of people in Jammu starting from 7th November.
"We will meet people of Jammu. They are also apprehensive after GOI brought land laws and retirement law "
National Conference twitter handle had earlier reported that Farooq Abdullah was not allowed to offer Nimaz at Dargah Sharif Hazratbal.
J&K administration has blocked the residence of Party President Dr Farooq Abdullah and stopped him from offering prayers at Dargah Hazratbal. JKNC condemns this infringement of fundamental right to pray, especially on the auspicious occasion of Milad Un Nabi SAW.

— JKNC (@JKNC_) October 30, 2020