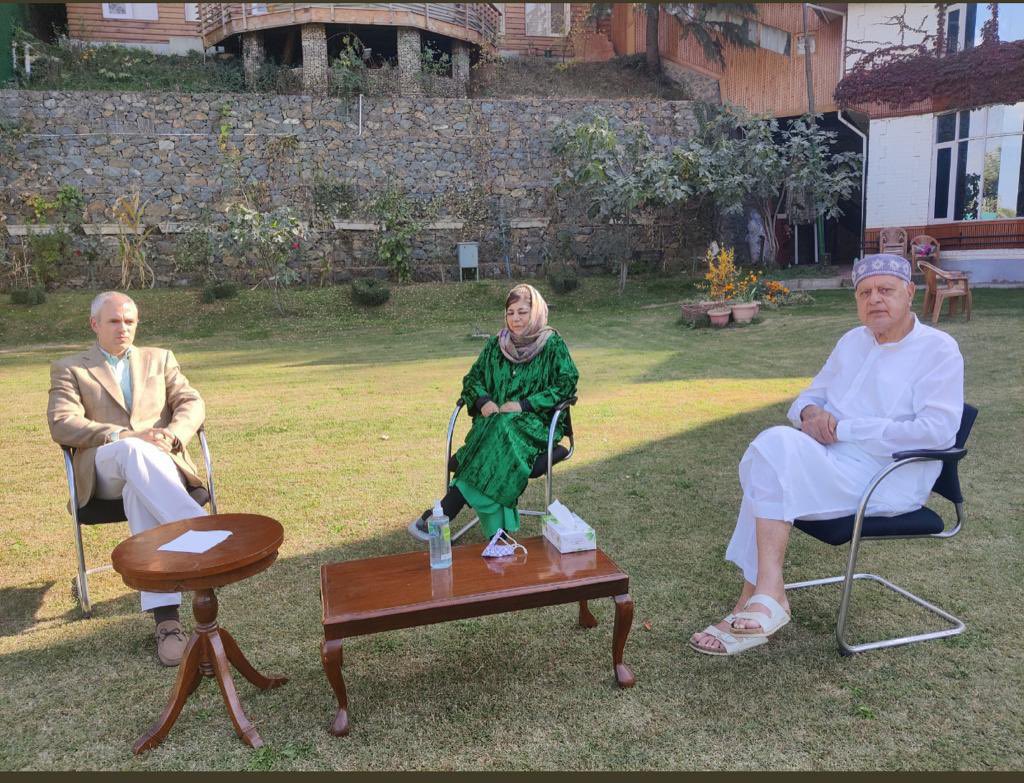 Srinagar, Oct 14: Soon after Abdullah's called upon Peoples Democratic Party (PDP) chief Mehbooba Mufti at her residence after her release from 14 month long detention, National Conference (NC) vice-president Omar Abdullah revealed that PDP chief has accepted the invitation of joining Gupkar Declaration meet that is scheduled to be held on Thursday.
NC vice-president and former Chief Minister of J&K Omar Abdullah on a micro-blogging site twitter said, "My father & I called on @MehboobaMufti Sahiba this afternoon to enquire about her well-being after her release from detention. She has kindly accepted Farooq Sb's invitation to join a meeting of the Gupkar Declaration signatories tomorrow afternoon".
Earlier NC President Dr Farooq Abdullah and her son Omar Abdullah visited the residence of Mehbooba and enquired about her well-being after her release from detention.
"Besides health condition of PDP chief was enquired, political situation across Jammu and Kashmir was taken up during the short meeting", sources said.
PDP chief Mehbooba Mufti who was released on Tuesday late night after J&K authorities revoked her PSA detention was detained on the intervening night of 4 and 5 August 2019, hours before New Delhi abolished special status of Jammu and Kashmir under Article 370 and revoked regions decade-old limited autonomy. She was later on slapped with draconian law Public Safety Act (PSA).
Soon after meeting with two former chief ministers of Jammu and Kashmir – Dr Farooq & Omar Abdullah – PDP chief Mehbooba Mufti on Wednesday said that "together we can change things for the better".
Mehbooba, who was replying to NC vice-president Omar Abdullah's tweet in which he had revealed that PDP chief accepted the invitation by Dr Farooq about Gupkar Declaration meet that is scheduled to be held tomorrow.
"It was nice of you (Omar) & Farooq sahib to come home. It gave me courage listening to him. I'm sure together we all can change things for the better", Mehbooba tweeted.
Mehbooba in her first address after being released from "preventive detention", termed the decisions taken on August 5, 2019 "unconstitutional" and "dacoit of New Delhi". She had said that the decision of scrapping Article 370 had been hurting her heart and soul during every moment of her detention.
In an audio message which was shared on social media sites soon after her release, the former chief minister of J&K called the day special status was scrapped a "black day".
She added, "No one among us will forget the humiliation of the day Article 370 was abrogated. No one among us can ever forget the dacoit and insult of the day".