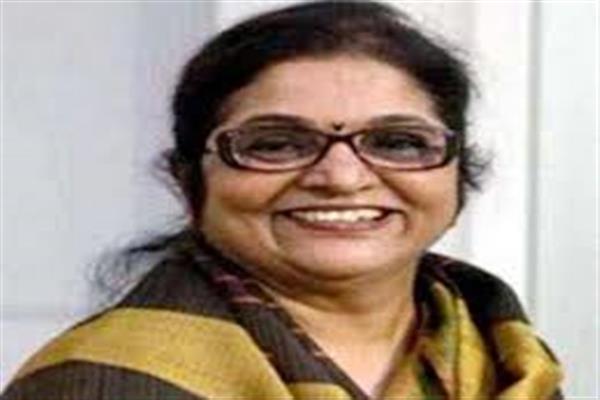 Srinagar, October 13: Former Member Parliament and J&K In-charge of Congress Party Rajni Patel called the decision of August 5 as undemocratic decision and called for the restoration of the statehood of J&K.
Rajni Patel who has been recently made in-charge of J&K said she met all section of people and people are unhappy over the decision of August 5 last year.
"It was brutal and unilateral decision. We support the people for their Statehood restoration demand. People across J&K are angry and in despair. People want statehood back," she said.
She was flanked by J&K Congress chief Ghulam Ahmed Mir, Bashir Ahmed Magray and other senior leaders.
She also said that first time she has witnessed state being downgraded to UT, "otherwise normally what happens is the transition of UT to statehood."
Patel also said that People she met are apprehensive about the loss of employment and land to the outsiders.
"People want land and employment for their own people. In Himachal Pradesh only their people can buy land, same should happen here, " she said.
She said this is her first visit to J&K and met cross-section of people to understand their problems and issues.
"Farmers are against the farmer bills. They believe these bills will bring disempower them. Present Government has demolished APMC. Majority of the farmers in India who are marginal farmers are in distress. PM Modi says they can sell their produce. How can they sell their produce in a weak bargaining position brought by these bills? Like J&K, farmers in Punjab, Haryana, and Karnataka demand rollback of these black law," she said, "We want this law to be repealed. In true sense, congress has done Atminirbar. Congress has coined the slogan of Jai jawan Jai Kisan long back. Congress has always tried to help farmers."
She also said Congress leader Rahul Gandhi was heckled when he went to sympathize with family of Hathiyr UP Dalit girl rape victims family.
"We ask Government why she was burnt during midnight. Why no action has been taken against the culprits. PM Modi says Beti bachaw, beti padhav. When their will be no women, how can women be educated"
She also said she supports the demand of restoration of 4G which she says is important for online education in times of Covid.
She also said she visited the Pandit settlements in Jammu and they are eager to return to their native places in Kashmir.
"We support all their genuine demands"
Patel also said Congress has always promoted no discrimination on basis of colour, caste and religion.
"Polarization is being promoted in the country; Congress has a will to remove it.