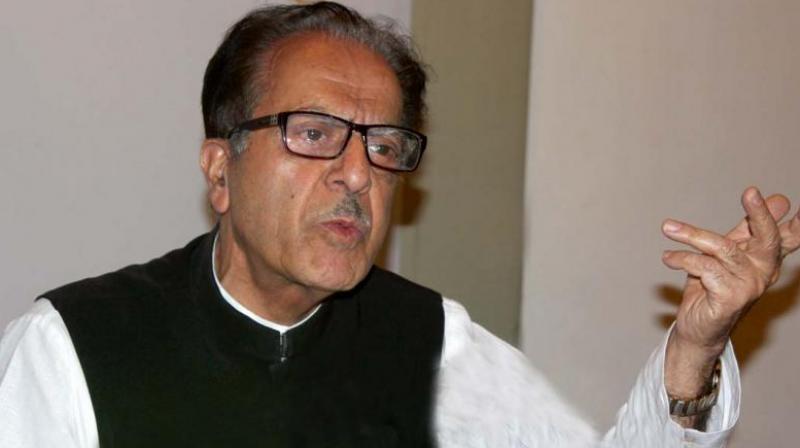 Srinagar, Oct 7: Senior Congress leader and former Minister, Prof Saifuddin Soz Wednesday said that Kashmir based politicians should never compromise on the issue of internal autonomy of Jammu and Kashmir.
Soz alleged that Government of India is suppressing people of Kashmir but that too shall pass.
"People should remember that the darkest part of the night is just before dawn. I believe people of Kashmir will emerge victorious."
In an exclusive chat with news agency Kashmir News Trust, Soz said there is deep alienation and people are very angry over the abrogation of Article 370.
"This resentment will prevail till internal autonomy is not restored. Government of India can't treat us as cattle. New Delhi has to listen and respect our sentiments."
In response to a question, Professor Saifuddin Soz said that by abrogating special status, New Delhi not only ditched mainstream leaders of Jammu and Kashmir but it ditched herself.
"New Delhi doesn't know the repercussions of their stupid act. So what if we fail in our struggle but our next generation will come to know about it and they will fight."
Soz said there is no democracy in Kashmir and it is a prison.
"Even though I am free right now but where will I go. It is a prison here. Kashmir is run by 'insolent' bureaucrats that are disconnected with people. 90% bureaucrats are insolent who treat Kashmir as a colony. Muslims are being sidelined in bureaucracy.
This has never happened in our history. All the top posts are held by non-Muslims," he said.
He said Sonia Gandhi, Rahul Gandhi and P.Chidambaram have soft corner for the people of Kashmir. "Chidambaram is very vocal about Kashmir and never compromised on Kashmir issue."
He said election is an immaterial subject for the people of Kashmir. "If elections happen, there will be very less participation and these elections will be a formality only. People are disinterested. They have lost everything but they don't see it as a loss but as an investment as they knew they will succeed one day in their struggle. People know losses are inevitable in a struggle. The coming generation will take a cue and will continue with the struggle till they get justice."
While responding to a question on Hurriyat Conference, Soz said that Syed Ali Geelani is the otherwise name of Hurriyat. "Since he (Geelani) is very old now, I think the chapter of Hurriyat is over. Hurriyat is virtually over but it fought and took a lead in the struggle. Geelani is very old but Mirwaiz despite being vibrant and young is silent. Despite being in house detention, Mirwaiz can speak and he should speak up. I was also under house arrest but was vocal. I am pro-Indian but always with people of Kashmir. I am pro-Indian till Congress fights for the common people."
He said after the abrogation of Article 370, Kashmir caught world attention and the issue got internationalized. "Government of India is acting like ostrich and feels nothing happened. It is resorting to white lies and hides ground reality," Soz said.
He said that through delimitation process Government of India wants to change demographic character of Kashmir.
"Their intention is not good but they will taste defeat. They want to Muslims in Kashmir should become minority but our struggle for justice will overwhelm them."
Soz said with the passage of time people in Jammu will hit roads and demand protection of jobs and land rights. "People in Jammu have started realizing the follies and intention of BJP. They will be up in arms soon and now they know their jobs and lands are not secure."
Soz said National Conference has changed a lot since the death of Sheikh Muhammad Abdullah.
While condemning the continuous house arrest of PDP leader Mehbooba Mufti, he said that she didn't agree with her late father when he decided to forge an alliance with RSS.
"I know Mehbooba confronted her father and opposed his decision, but unfortunately, PDP joined hands with RSS much discomfiture of those who supported this party," Soz said adding that it was the biggest blunder of late Mufti Muhammad Sayeed to hug RSS-BJP.
Terming the house detention of Mehbooba Mufti as unconstitutional and illegal, Soz said that she is not being freed because Government of India thinks she is interested in the matters of people and she will get connected with them.
"Lieutenant Governor had promised me that Mehbooba will be released soon but ultimately decision in this regard has to be taken by New Delhi that has incarcerated her," he said.
While talking about newly floated Jammu Kashmir Apni Party, Soz said: "Altaf Bukhari is a nice person and nice by heart but those who won't listen to the heartbeats of people of Kashmir won't succeed in politics. He will be tagged and labeled (Indian agent) in Kashmir. For the desires and aspirations of the people of Kashmir, all political leaders should get united and Apni Party should also change its stand and join the united circle, otherwise their politics will be a failure in Valley."
Saifuddin Soz said that government of India should first apologize to the people of Kashmir and then oblige to their demands.
"People are not Pakistani here and they know independence is a distant dream but internal autonomy should be restored. People raise pro-Pakistan slogans to express their anger but that doesn't mean they are Pakistani. We have acceded to Union of Indian on terms and conditions. We have not merged like other state of India."
He admitted that when in power Kashmiri politicians failed to serve and ease the sufferings of people of Kashmir.
"The Kashmiri politicians including Sajad Lone, Altaf Bukhari have learnt lesson and all these leaders should come under one roof and fight for the aspirations of the people. These leaders should not compromise on the internal autonomy of Jammu and Kashmir," Soz concluded. (KNT)