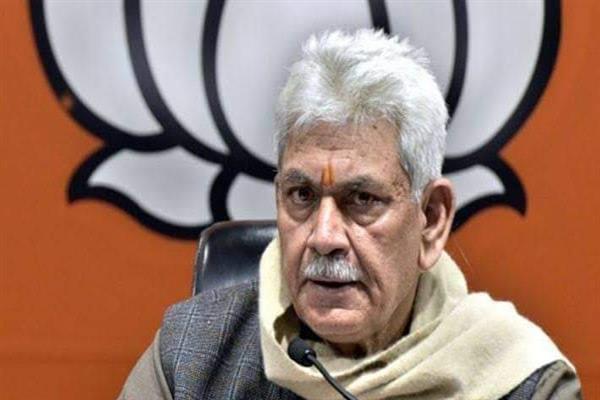 Jammu September 24:Lieutenant Governor, Manoj Sinha has strongly condemned the killing of BDC Chairman from Khag Budgam,Bhupinder Singh.
Bhupinder Singh succumbed to his injuries after being shot by militants in Budgam .
The Lt Governor has expressed anguish over the killing and said that "the heinous act is an attempt to spread fear and vitiate the atmosphere of peace and progress. He said there can be no justification for such attacks".
"The society does not have any space for perpetrators of violence and those involved in this cowardly act shall be brought to justice", he added.
In a condolence message, the Lt Governor has conveyed his deepest sympathies to the bereaved family and prayed for eternal peace to the departed soul,
Congress and CPI (M) also condemn the killing
The Jammu and Kashmir Pradesh Congress Committee (JKPCC) has strongly condemned the killing of BDC Chairman Khag and described the incident as highly unfortunate and shameful act.
In a statement, the JKPCC in a statement has expressed anguish over the killing of Bhupinder Singh BDC Chairman Khag (Budgam) and strongly condemned this inhuman and cowardly act.
The Party sought stern action against the killers of Bhupinder Singh and said killing of innocent people was highly condemnable and unacceptable, deserves strong condemnation by every section of the society, PCC said.
Senior CPI (M) leader and former MLA Kulgam Mohammad Yousuf Tarigami on Thursday termed the killing  Bhupinder Singh as a heinous crime.
He said killing of unarmed persons is an act of barbaric and must be condemned.
He has expressed sympathies with the bereaved family and prayed for the eternal peace to the departed soul