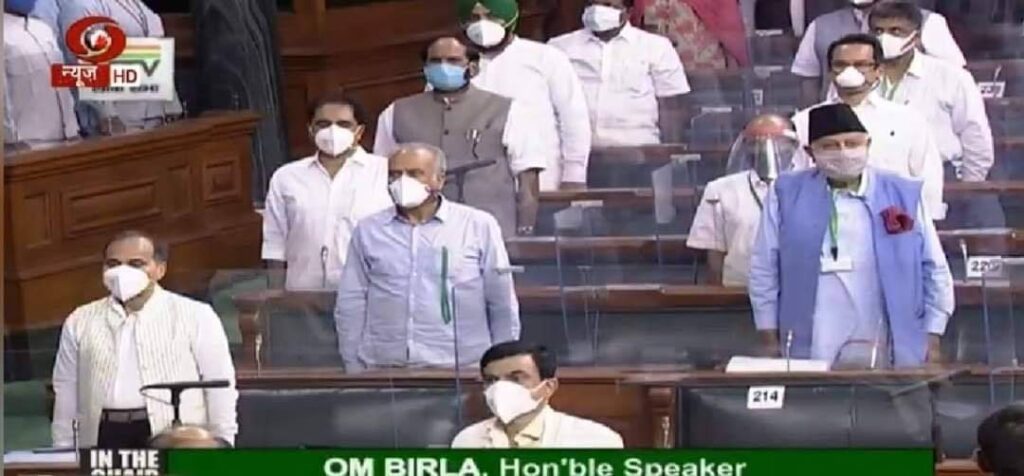 Srinagar, September 14: National Conference president Dr Farooq Abdullah and Member Parliament (MP) today attended the parliament for the first time after abrogation of Article 370 by BJP- led Central government on August 5, 2019.
Farooq represents Srinagar Parlimentary constituency.
Abdullah, arrived in New Delhi on Sunday, turned up in the Parliament this morning after a gap of more than one year.
The veteran politician, who was welcomed by different leaders of opposition in the House, will remain in focus during the ongoing session since he remained in detention during the last two sessions.
According to observers, it would be interesting to watch whether he would he speak up for restoration of Article 370 during the ongoing session.
Abdullah's party National Conference is also part of a six-party alliance, also comprising PDP and PC, which has pledged to strive for restoration of J&K's special position and statehood.
It is worthwhile to mention that Abdullah was among more than 40 mainstream leaders, including former CMs, who were detained by the Centre hours before it abrogated Article 370.
In September last year, he was detained under the controversial Public Safety Act when a petition challenging his detention came up for hearing in the Supreme Court.
According to his PSA dossier prepared by J&K administration, Abdullah has tremendous potential for creating an environment of public disorder within Srinagar district and other parts of the Valley.
He was also accused of fanning the emotions of general masses against the Union of India, and instigating the public with statements against the unity and integrity of India.
"On the 11th birth anniversary of his father at Naseembagh Hazratbal,  in December 2016… triggered controversy by making explicit overtures towards separatist conglomerate namely Hurriyat Conference by stating that they should unite with his party for the cause of Kashmir," states the dossier.
In March this year, the administration revoked his PSA and set him free.
Apart from NC President party's MP's Hasnain Masoodi and M Akbar Lone were also present with him.