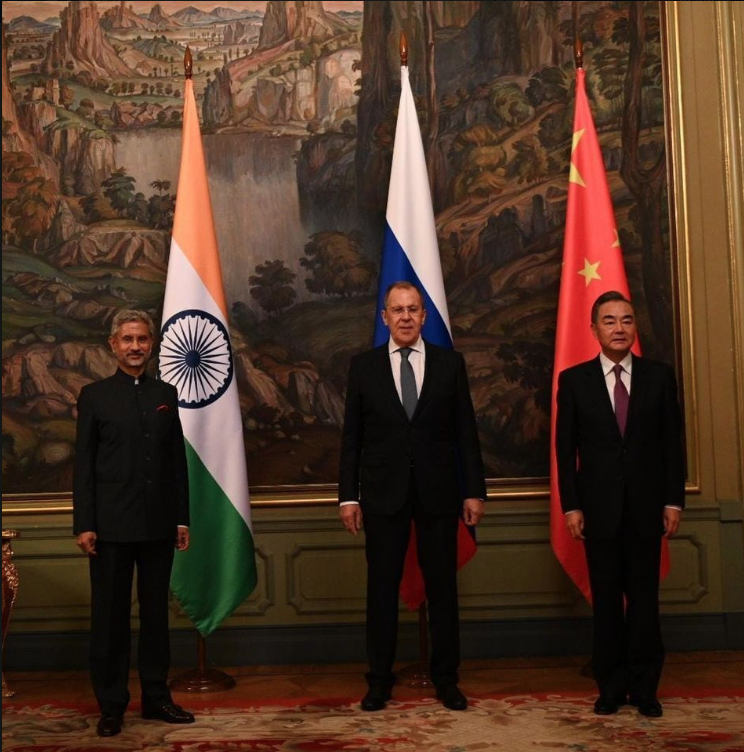 Srinagar, September 11: In the wake of mounting tensions in Eastern Ladakh, India and China have agreed not to allow "differences becomes disputes" in the 'border areas".  
India's external affairs minister Dr. S. Jaishankar met his Chinese counter part Wang Yi,  in Moscow on the side-lines of the Shanghai Cooperation Organisation (SCO) meeting during which both sides agreed that they "should take guidance from the series of consensus of the leaders on developing India-China relations, including not allowing differences to become disputes."
"The two Foreign Ministers agreed that the current situation in the border areas is not in the interest of either side. They agreed therefore that the border troops of both sides should continue their dialogue, quickly disengage, maintain proper distance and ease tensions," the Indian ministry of external affairs stated.
The two Ministers agreed that both sides shall abide by all the existing agreements and protocol on China-India boundary affairs, maintain peace and tranquillity in the border areas and avoid any action that could escalate matters.
"The two sides also agreed to continue to have dialogue and communication through the Special Representative mechanism on the India-China boundary question. They also agreed in this context that the Working Mechanism for Consultation and Coordination on India-China border affairs (WMCC), should also continue its meetings," the ministry of external handout read.:
"The Ministers agreed that as the situation eases, the two sides should expedite work to conclude new Confidence Building Measures to maintain and enhance peace and tranquillity in the border areas".
Rising tensions in Eastern Ladakh
The tensions have been mounting between India and China in eastern Ladakh along the Line of Actual Control (LAC).
On September 8, Chinese military claimed that Indian troops crossed the LAC in the southern banks of Pangong lake in eastern Ladakh and fired warning shots, calling it a serious "provocation of bad nature".
The Indian side, however, denied the charges and put the entire blame on China claiming it "continues to undertake provocative activities to escalate".
Earlier, Indian army had accused Peoples Liberation Army (PLA) of violating the consensus and carried out provocative military movement to change status quo in Eastern Ladakh.
"On the Night of 29/30 August 2020, PLA troops violated the previous consensus arrived at during military and diplomatic engagements during the ongoing standoff in Eastern Ladakh and carried out provocative military movements to change the status quo," army said in a statement.
China, however rebutted the Indian army statement, saying, "Indian army illegally crossed the Line of Actual Control on Monday, a provocative move that violated the previous consensus and urges the Indian side to withdraw its forces"
Both India and China have held several rounds of military talks involving the senior commanders to draw plans for the disengagement of troops after June 15.
On June 15, around 20 Indian soldiers lost their lives during clashes with the Chinese army in the Galwan valley region in eastern Ladakh,.