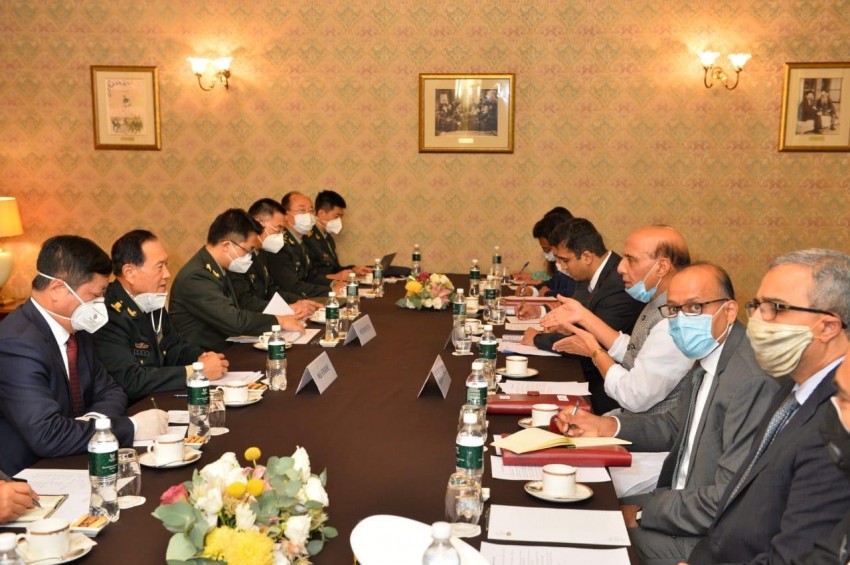 Srinagar, September 05: India bears full responsibility for the current China-India border tensions Chinese State Councilor and Defense Minister Wei Fenghe said during his meeting with his Indian counterpart Rajnath Singh Friday in Moscow, Global times reported.
"China's military is fully determined, capable and confident to safeguard China's sovereignty and territorial integrity, and not an inch of Chinese territory can be lost," he said.
The meeting on the sidelines of the defense minister's level meeting between members of the Shanghai Cooperation Organization (SCO) in Russia, was the first high-level, face-to-face meeting between Indian and Chinese senior officials since border tensions erupted along the Line of Actual Control (LAC) in eastern Ladakh in early May.
According to Global times, Singh said India hopes that two sides will adopt a responsible attitude, fully disengage front-line forces as soon as possible, avoid taking measures that may escalate or complicate the situation, and avoid turning divergence into confrontations so as to bring bilateral military relations back to the right track as soon as possible.
The Indian side is yet make any official statement.
The tensions have been mounting between India and China in eastern Ladakh.
Earlier, Indian army has accused Peoples Liberation Army (PLA) of violating the consensus and carried out provocative military movement to change status quo in Eastern Ladakh.
"On the Night of 29/30 August 2020, PLA troops violated the previous consensus arrived at during military and diplomatic engagements during the ongoing standoff in Eastern Ladakh and carried out provocative military movements to change the status quo," army said in a statement.
China, however rebutted the Indian army statement, saying, "Indian army illegally crossed the Line of Actual Control on Monday, a provocative move that violated the previous consensus and urges the Indian side to withdraw its forces"
Both India and China have held several rounds of military talks involving the senior commanders to draw plans for the disengagement of troops after June 15.
On June 15, around 20 Indian soldiers lost their lives during clashes with the Chinese army in the Galwan valley region in eastern Ladakh,.