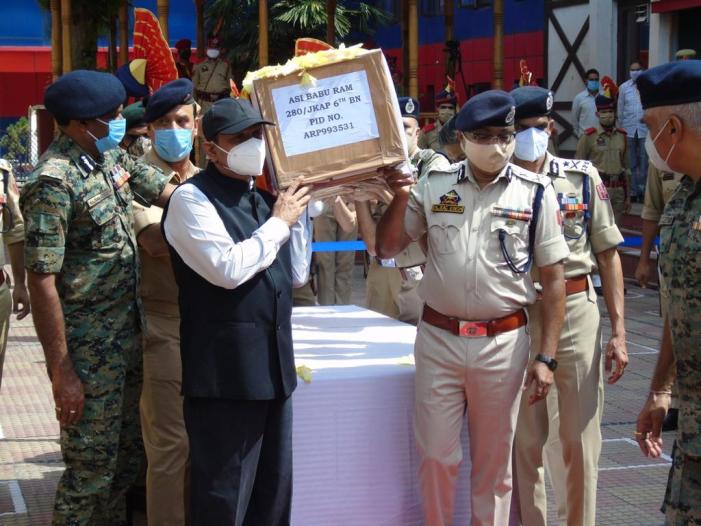 Srinagar, Aug 30: Director General of Police J&K, Dilbagh Singh Sunday said that in an overnight encounter at Panthachowk, Srinagar, the J&K police lost its brave, well-trained and experience counter insurgency cop who had taken part in so many successful anti-militancy operations.
The DGP also said that the three-bike borne militants had first fired at a joint naka party at Panthachowk yesterday night in a bid to snatch weapons, but alert forces foiled their plans forcing them to leave behind the bike and take shelter in a nearby house.
Talking to reporters in Srinagar on the sidelines of wreath laying ceremony of slain Assistant Sub Inspector (ASI) of Special Operation Group (SoG) of J&K Police, Babu Ram, the DGP said that Ram was a brave cop, who was well trained and had been part of anti-militancy operations since long.
"In Panthachowk operation, we lost a well-trained, brave and experienced counter insurgency cop," DGP said. He said that yesterday evening, three bike-borne militants fired at the joint party of police and CRPF at a check point at Panthachowk.
"It was a weapon snatching bid that was foiled by the alert troops, forcing the militants to leave behind their bike and take shelter in a nearby area known as Dhobi Mohalla, Pantha Chowk," he said.
The DGP said that teams of SoG and CRPF acted swiftly and cordoned the area till senior officers of police and CRPF joined them to supervise the operation. "The operation lasted for the entire night. In the initial exchange, one militant was killed and we lost ASI Babu Ram. As the operation progressed, we killed two more militants," the DGP Singh said.
He said that the three slain militants belonged to Lashkar-e-Toiba and one of them was a commander active since past over a year. "We brought the families of two others from the Pampore area who appealed their children to surrender, but they refused and instead fired.
This was done despite the fact that we lost our brave cop in the operation," the DGP said. He said one AK-47 and pistols were recovered from the slain militants.
Asked whether the three slain militants were involved in the August 14 Nowgam, Srinagar attack where two cops were killed, the DGP said that police was investigating and nothing can be stated at this juncture. (KNO)