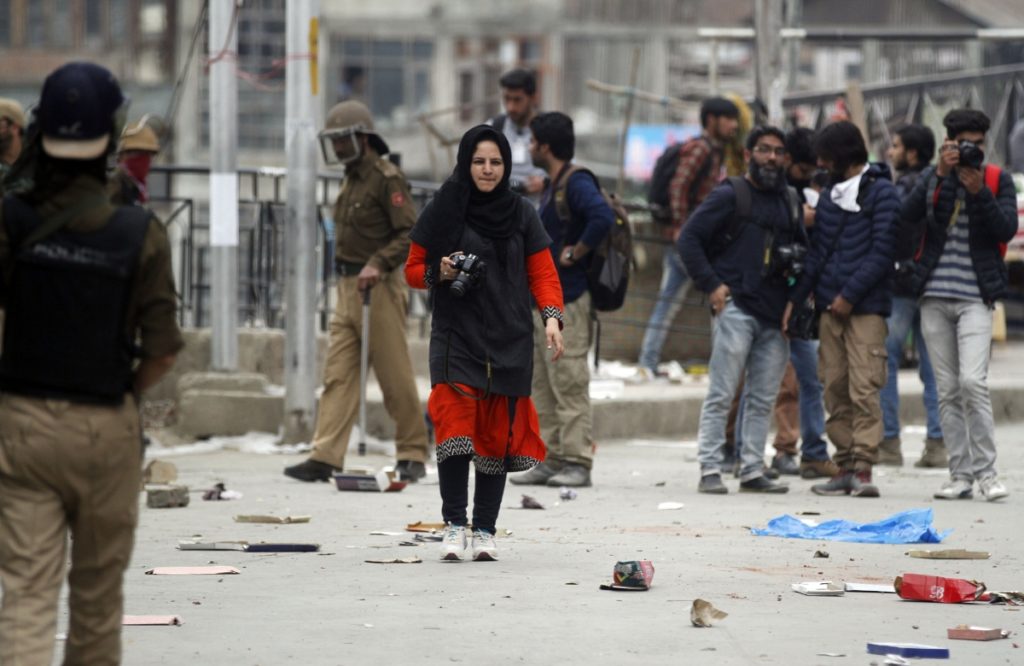 Washington DC, August 22, 2020 – Independent photojournalist Masrat Zahra, 26, has been declared as  the winner of the 2020 Peter Mackler Award for Courageous and Ethical Journalism.
According to the handout issued by the Peter Mackler Award for Courageous and Ethical Journalismm Zahra will be honored in a virtual ceremony organized by the Craig Newmark Graduate School of Journalism in New York City on Wednesday September 24, 2020, it added
Her work reporting on conflicts in her home region, with a specific focus on the perspectives of women, has appeared in prominent news sources such as The Washington Post and Al Jazeera.
"I am feeling overwhelmed," said Zahra upon learning of the award over WhatsApp from Srinagar, Kashmir, "this year was very tough for me. It's an honor to receive this prestigious award."
In April 2020, Zahra reported on clashes between militants and the Indian army in Kachdoora, Jammu and Kashmir.
The statement reads: "When she shared an image of herself taking photos of that operation, captioned "Gun vs. Camera," the picture quicklywent viral and brought an onslaught of misogynistic hate speech. Social media users shared the photo with the word "mukhbir," meaning "informant," as a caption, turning her in an object of retaliation".
"She was later charged under India's stringent Unlawful Activities Prevention Act for 'glorify[ing] anti-national activities', for which she may face up to seven years in prison. Authorities also brought a complaint against her forinciting "an offence against the state," by publishing photos that dent the image of law enforcement," it added.
"Masrat's complete dedication to reporting the story, no matter the risks, along with her mental fearlessness and creative approach to use any medium at her disposal to bear witness to the world guided our choice," said Catherine Antoine, president of the Global Media Forum Training Group and founder of the Peter Mackler Award.
In addition to posting regularly on Twitter, Facebook, and Instagram, Zahra's work has appeared in The Washington Post and Al Jazeera, among other prominent news sources. She studied journalism at the central University of Kashmir and the AKS School of Documentary Photography.
The virtual ceremony will include a panel discussion moderated by Farwa Aamer, director of South Asia Program at the East Asia Institute.
The Award, now in its 12th year, honors journalists who have demonstrated a commitment to fairness, accuracy and speaking truth to power, with a matching commitment to asserting the right to publish or air that story in countries where independent media is under threat.
The Award is a project of the Global Media Forum Training Group (GMFTG), a 501 (C) (3) organization.
The Partners include the Craig Newmark Graduate School of Journalism at CUNY, Reporters Without Borders and Agence France-Presse. It is named after Peter Mackler, a veteran journalist who also dedicated countless time and energy to training and mentoring the next generation of reporters around the world, the statement read.