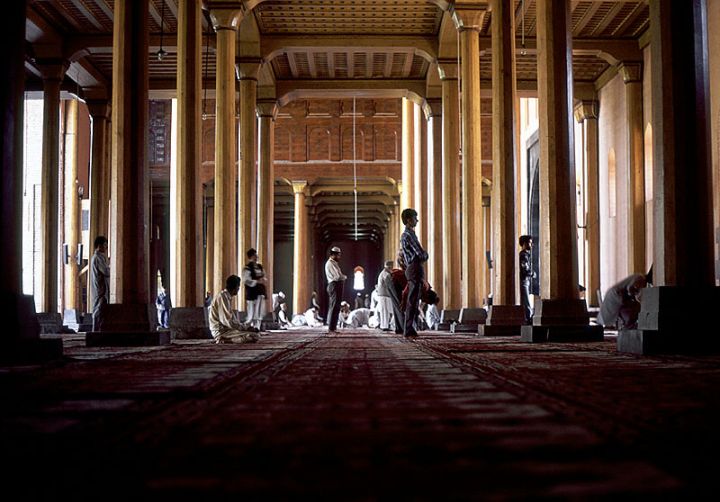 Srinagar, August 18: After 150 days of Covid-19 lockdown restrictions, Anjuman-e-Auqaf Jamia Masjid on Tuesday threw open historical Grand Mosque for all time prayers, subjected to adherence on SOPs to keep the pandemic away.
As soon as the call for prayers (Azaan) reverberated from Jamia Masjid, people started rushing towards the Mosque to offer obligatory prayers and with extreme devotion and humbleness began kissing the doors and wooden columns of this historic Masjid.
The moment was filled with emotions that rejuvenated the faith of the believers. Devotees were seen greeting to each other with moist eyes.
However hundreds of men and women offered the congregational Zuhr prayers while adhered upon the guidelines chalked out by administration in compliance with medical experts.
Believers prayed to Almighty Allah to grant refuge to the people of Kashmir, Muslims across the globe and entire humanity from this deadly pandemic which has affected twenty-two million people and killed near about eight lac people across the globe.
At the occasion the management of Jamia Masjid and other devotes interacted with media persons and expressed gratitude over opening of historical Grand Mosque for prayers. They also demanded immediate release of Mirwaiz Umar Farooq who is also Chairman of Anjuman Auqaf Jamia Masjid, from his year over house detention.
"Mirwaiz is like a soul of this sacred place. The pulpit of Jamia is waiting for Mirwaiz. We hope authorities will take our appeal on humanitarian grounds and will ensure the release of Mirwaiz so that he will address us on upcoming Friday", a member of the Management told media.
The management of the Jama Masjid and the people interacted with several media-persons present on the occasion and demanded immediate release of the Anjuman Auqaf Jamia Masjid Chairman Mirwaiz Moulvi Muhammad Umar Farooq who continues to be under arbitrary house arrest for more than a year now, so that the Mirwaiz resumes the centuries-old tradition of his forefathers – the Mirwaizeen – of addressing the people from the pulpit of the Jamia Masjid.
For the convenience of those coming for prayers, Auqaf Jamia Masjid had put in place all the SOPs and other precautionary measures including providing free masks and keeping the sanitizers inside the grand Masjid.
On the occasion, the people also expressed strong anger and resentment over the blasphemous remarks against the beloved Prophet of Islam Hazrat Muhammad Mustafa (SAW) made by some miscreants and communal zealots in Jammu region, and demanded stringent punishment to the culprits.
Meanwhile in central Kashmir's Budgam district, two vital religious places were opened for prayers after a gap of five months.
In consequent of orders by the divisional administration Kashmir, Sub-Divisional Magistrate (SDM) Chadoora Prince Noor-ul-Hameed on Tuesday threw open two religious spots including Chrar-e-Shareef and Pakerpora. Both places had been closed for religious activities on March 16 after Covid-19 outbreak across J&K.
At the occasion, SDM directed the management of both sacred places to ask people act upon SOPs strictly while coming for prayers. As per guidelines below 10 years and above 60 years citizens have been directed to stay away from visiting the sacred places. (KNS)