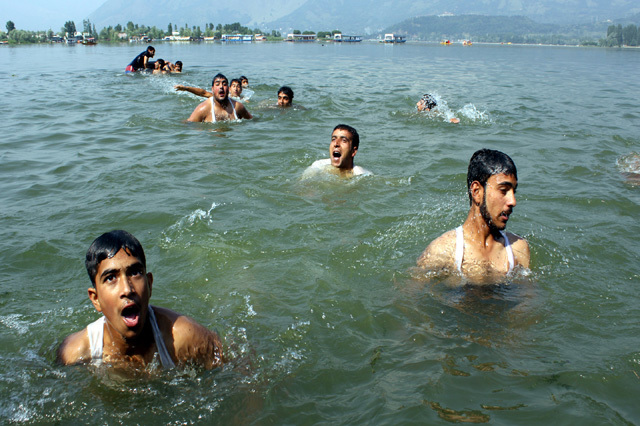 Srinagar, Aug 17: For the first time in nearly four decades, Srinagar, the summer capital of Jammu and Kashmir, recorded hottest day in August at 35.7 degree Celsius on Monday.
Earlier, the hottest day in this month was recorded on August 07 at 35.4 degree Celsius.
The official spokesman said that Srinagar recorded 35.7 degrees Celsius temperature today, thus surpassing the previous records of 39 years.
As per the figures available, the hottest day in Srinagar in the month of August was recorded on August 01, 1946 at 36.7 degrees Celsius.
The hottest day in the month of August after four decades was recorded amid deficit rainfall in Jammu and Kashmir.
Besides, Kokernag in South Kashmir's Anantnag district and north Kashmir's Kupwara district also recorded the highest temperature today.
As per the officials at the local Meteorological department, Kupwara district recorded the highest temperature at 36.7 degree Celsius today, which is the highest recorded since 1993.
They added that in Kokernag, 32.0 degree Celsius temperature was recorded today which is the highest since 1991.
"Weather remained dry across Kashmir & Ladakh for most days of August due to absence of any favorable rain giving weather system. This prolonged dry weather led to sharp increase in day temperature across Kashmir and Ladakh during the last few days. Today, Srinagar, Kupwara and Kokernag recorded the highest maximum temperature of a particular day in the month of August breaking previous records of over 3 decades," the spokesman of MeT said.
The official spokesman stated that there was no forecast of any major rainfall activity for next three days. However, he stated that scattered rain is expected around 20-21st August.
He further stated that except some districts of plains of Jammu region, all the districts of Jammu and Kashmir received deficit rainfall during this Monsoon season (June -17th Aug 2020)—(KNO)