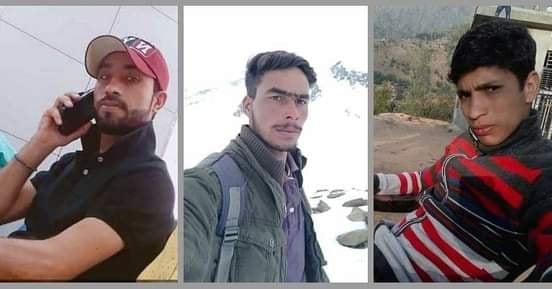 Srinagar, Aug 11: The family members of three missing youth from Rajouri district Tuesday appealed to Lieutenant Governor of J&K UT Manoj Sinha to order an impartial independent probe into the July 18 Amshipora, Shopian encounter to find out whether slain were their kin or militants.
Muhammad Yousuf , the father of one of the missing youth, Ibrar Ahmad, said, that today, they met concerned DIG and SSP Rajouri and so far they have cooperated. "We are hopeful that by tomorrow we will get permission to travel to the valley, where we will approach concerned authorities for DNA cross examinations," Yousuf said.
He said that the photographs that have gone viral on social media about the three militants killed in the July 18 encounter at Shopian suggest that slain were "our wards, who were working in Shopian district as labourers."
"We lost contact with them on July 17. In one night, how all three became militants," said Yousuf in a broken voice. "We will not sit idle and will demand a fair probe. My entire family is working in the army but innocent killings are not justified at all."
He said Lieutenant Governor Sinha must order an impartial and independent probe to find out whether slain were militants or civilians. "If it is proved that the encounter was stage managed, strict action must follow," Yousuf said.
Family members of other two youths have echoed similar concerns and demanded an independent probe into the encounter.
Meanwhile, locals from Chowgam and Amphipora told KNO that they knew Imtiyaz, one of the missing trio, very well as he used to work in the area since past three years.
After netizens flooded the social media with posts that "July 18 encounter was a fake one", the army on Monday said it has taken note of the social media posts and that it was investigating the matter—(KNO)