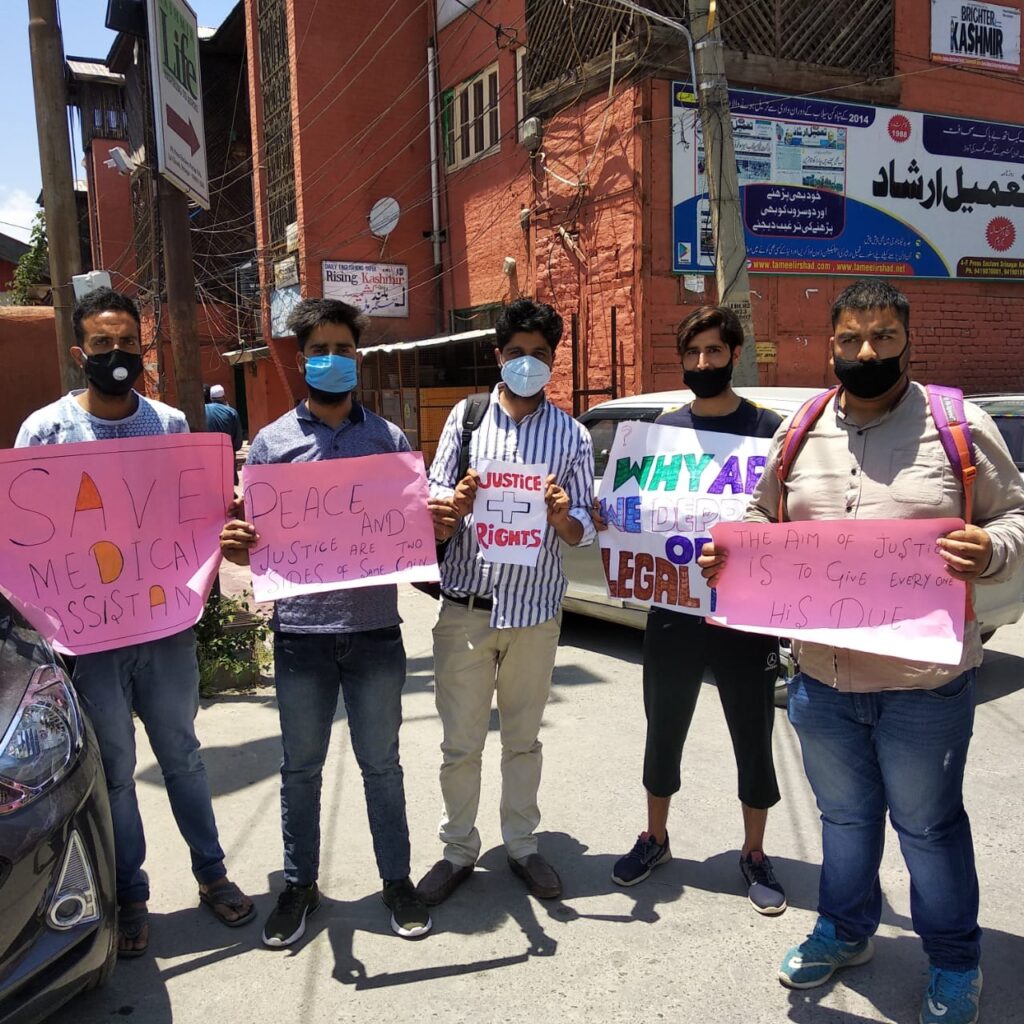 Srinagar, July 27:
We the Medical Assistant (Pharmacist) students of UT J&K want to convey our problems to UT Administration
We are facing a number of problems which are mentioned as below
1) After state got converted into UT the state pharmacy council laws got abolished instead of that Indian pharmacy council laws are being implemented here in UT J&K.
But as Medical assistant diploma is not registered in the pharmacy council of India due to which students are not getting registration so that they can get licences and can run the pharmacy shops
2) Near about 20,000 Diploma holders ( some students are still persuring ) future is at stake.
3) since last 4 5 months we have continuously protested on this injustices but it's very unfortunate to say that so far we didn't have seen any kind of statement on this issue from the UT administration.
4) Maximum students belong to middle class families who can not afford degrees.
5) we have already spend 2-3 years and lacs of Rupees on this diploma.
Now we can't afford more.
6) issuance of licences in the favour of Diploma holders will reduce the unemployment rate of the UT J&K.
Now at last we are making a humble request to the UT administration especially head of UT LG sir please and please look in this matter as soon as possible so that the future of 20,000 youth can be saved.
From JK President medical assistant Association Kashmir
1.AMT COLLEGE SRINAGAR
2.MUBARAK PARA MEDICAL INSTITUTE
3.PHONEIX PARAMEDICAL COLLEGE
4.SET PARAMEDICAL COLLEGE
5.AMT ANATANAG
6NOORANI PARAMEDICAL PULWAMA
7.TK COLLAGE
8.RAMAZAN INSTITUTE NOWGAM
9.DOLPHIN PARAMEDICAL INSTITUTE PULWAMA
10.SBGM PARAMEDICAL COLLEGE SHOPIAN
11.SKY LARK PULWAMA
12.SOUTH KASHMIR PARAMEDICAL
13.AL FALAH INSTITUTE OF PARAMEDICAL
14MUBARAK PARAMEDICAL INSTITUTE
15.CLASSIC PARAMEDICAL INSTITUTE SGR.
16.KIMIST
17.FLORENCE PARAMEDICAL INSTITUTE
18.KIDNEY PARAMEDICAL COLLEGE
19. AMT BARAMULLA
20.AMT PULWAMA
21.AMT GANDERBAL
22.AMT BANDIPORA
23. GREEN VALLEY INST. KUNZAR