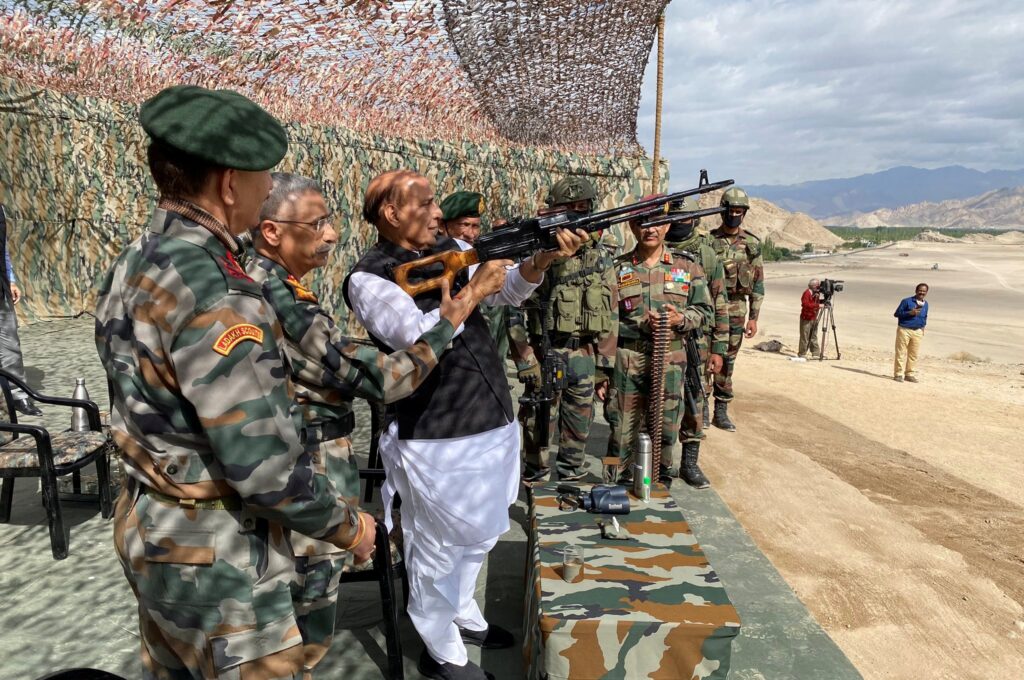 Srinagar, July 17: Defense Minister Rajnath Singh has said that not once inch of land will be taken by any power in the world from India.  
He made these remarks while addressing troops in Lukung in Ladakh.
While pointing towards the intense talks going on between the Indian and Chinese troops on disengagement and de-escalation on frictional points, Rajnath said:
"Talks are underway to resolve the border dispute but to what extent it can be resolved I cannot guarantee. I can assure you, not one inch of our land can be taken by any power in the world."
"Recently what happened between troops of India and China at PP14, how some of our personnel sacrificed their lives protecting our border. I am happy to meet you all but also saddened because of their loss. I pay my tributes to them," he added.
On June 15, twenty Indian soldiers were killed during clashes with Chinese forces in Galwan valley which caused tensions between the two nations.
In the wake of mounting tensions with China in eastern Ladakh, Defense minister Rajnath Singh arrived in Leh along with army chief General MM Naravane, CDS Bipin Rawat.
The duo are on a two day visit to Ladakh, Jammu and Kashmir.
Defense minister and Army to brass will review the overall security situation.
This will be the Defense minister's first visit to Ladakh following the stand-off China starting mid-April.
On reaching Leh, Rajnath The Defence Minister witnessed para dropping and scoping weapons at Stankna near Leh, Defense ministry said.
The Indian Army T-90 tanks and BMP infantry combat vehicles also carried out the exercise at Stakna.
After Ladakh, the Defense minister and army chief will Jammu and Kashmir to review security situation along the Line of Control.