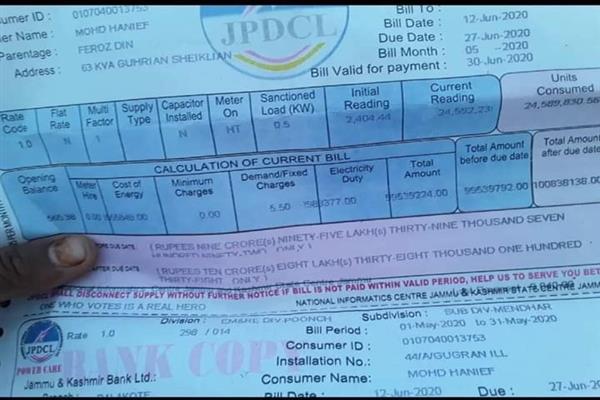 Poonch, July 07: In a shocking incident first of its kind, Power Development Department (PDD) has sent Rs10 crore bill to a villager in Mendhar area of Poonch district.
The villager namely Mohammad Hanief son of Feroz Din from Gugran village of Poonch was sent a bill from the office of AEE, PDD Sub-Division Mendhar two days ago.
The family had gone into a state of shock after they found Rs two crore on account of electricity usage for the month of May 2020 against the Consumer ID No. 0107040013753.
The amount mentioned is the bill was Rs 10,08,38,138.00 after which worried villager rushed to the Sarpanch and narrated the matter who however contacted Tehsildar Mendhar and the PDD office as well for its rectification.
Meanwhile PDD officials have kept their lios tight and have turned ignorant of the matter. (KNS)