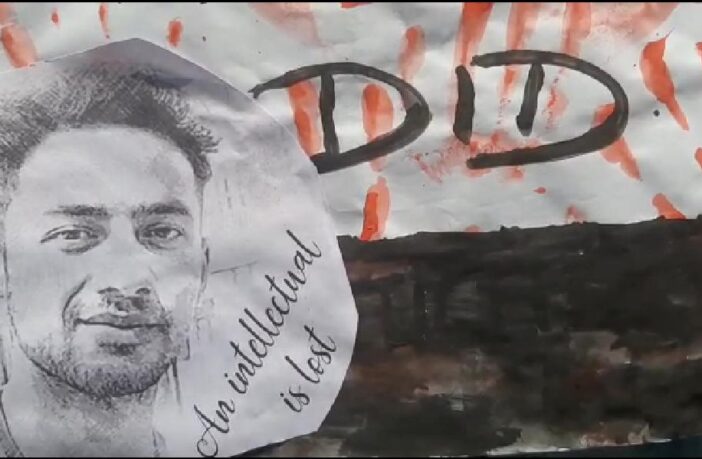 Srinagar, July 6: The friends and relatives of Shopian youth staged a protest here in Srinagar alleging medical negligence in the death of Abrar Reyaz (24).
Abrar along with his father and another relative was injured in a road accident near Pampore area and was admitted at Srinagar's SMHS hospital on the same evening. He was under treatment of critical care specialists.
Despite receiving a fatal head injury, he was treated for Covid infection and shifted to CD Hospital Srinagar where he died due to head wounds.
The friends and relatives emerged in Press Enclave Srinagar and demanded stringent punishment to those responsible for the negligence that resulted into the dead of Abrar Reyaz.
"It is ironical that Abrar was shifted to the Chest Diseases hospital even though he was a trauma case and should have been treated by neurosurgeons at SKIMS instead at a Covid-19 hospital," said one of the relatives.
They said it is really astonishing that SKIMS refused to admit him saying no ventilator is available there. "Abrar was eventually shifted to CD hospital in critical care ambulance in which an oxygen pump had to be manually operated."
The protesting relatives said Abrar was showing slight improvement lately but once the tests of Covid-19 revealed that he was positive the hospital authorities shifted him to CD hospital much to everyone's surprise.
"He should have been shifted to Neurosurgery ward of SKIMS instead of taking him to CD Hospital. It was simply a murder and the doctors responsible for it should face the music," they said.
"If the patient had a head injury and he is a Covid-19 positive he should have been treated at a multispecialty holistic management hospital which is SKIMS, Soura rather than referring him to chest disease hospital," they said and demanded action against SMHS Hospital authorities.
His friends said that Abrar besides a student was an avid social media user and prolific writer. Besides that, he was a blogger and columnist. He had participated in two international moot court competitions – Nuremberg Moot Court and International Criminal Court (ICC) Moot Court – former being held in Germany, in which teams from more than sixty countries participated. (KNT)