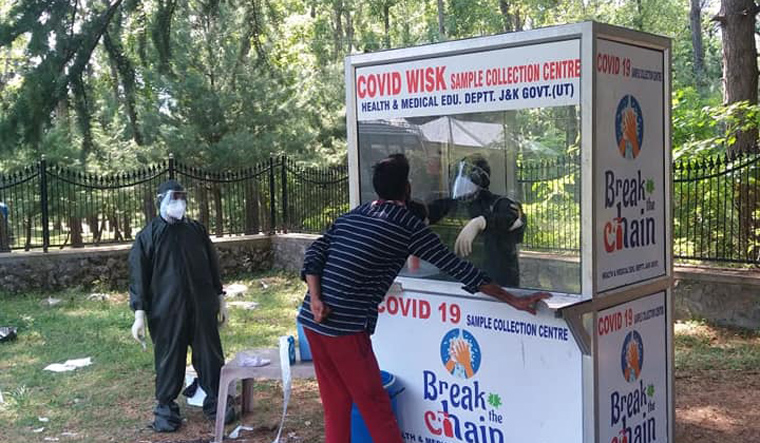 Srinagar, July 03: Jammu and Kashmir Friday witnessed three more deaths due to the Covid-19 pandemic, taking the number of people who died of the deadly virus in J&K UT to 119.
The three persons who died today include, 70-year-old from Sopore,  a 70-year-old man from North Kashmir's Baramulla district and an 80-year-old man from Rajbagh, Srinagar. Since Wednesday, Covid has claimed 13 lives in J&K that include one from Jammu and 12 from Kashmir. All the deceased were in the age group of 60 to 80.
A doctor at the Chest Diseases hospitalsaid that a 70-year-old man from Sopore area of Baramulla district, who was admitted on June 29 died today evening. "He had tested positive for the Covid-19. He was suffering from bilateral pneumonia and other ailments," the doctor said.
As for the second death, Dr Saleem Tak, Medical Superintendent at CD hospital said that a 70-year-old man from Baramulla, who was tested positive for COVID-19 and was referred from SMHS on Thursday, died at CD hospital today afternoon.
The patient was very critical and was on ventilator, he said, adding that the patient was suffering from Hypertension, Diabetes, Chronic Obstructive Pulmonary Disease (COPD) and other ailments.
Dr Nazir Choudhary, Medical Superintendent at SMHS said that an 80-year-old man from Rajbagh, Srinagar who was admitted on July 02 died on Friday afternoon. He said that patient was suffering pneumonia and heart ailments.
With three fresh deaths, the death toll due to COVID-19 in J&K has reached to 120 including 106 from Kashmir division and 14 from Jammu division, Srinagar district with 28 deaths has the highest fatalities followed by Baramulla (19), Kulgam (16), Shopian (13), Budgam (10), Anantnag (9),  Jammu(8), Kupwara (6), Pulwama (four), Doda (2) while one death each has been reported from Bandipora, Poonch, Udhampur, Rajouri and Kathua—(KNO)