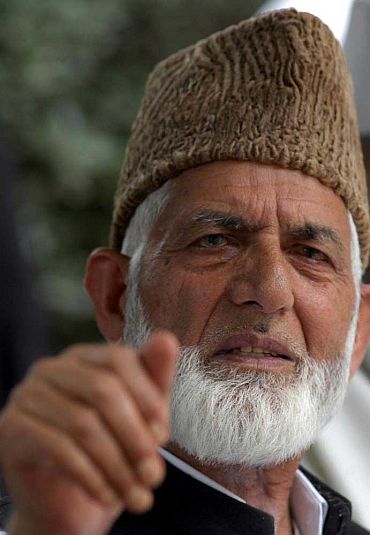 Srinagar, June 30: A day after senior separatist leaders parted ways from All Parties Hurriyat Conference (APHC), the Hurriyat leaders on Tuesday said that the veracity of audio and letter issued by Syed Ali Geelani was being ascertained.
On Monday, Syed Ali Geelani who was the Chairman of Hurriyat Conference (G) announced to part ways from the "Hurriyat Forum" citing the present prevailing situation.
In an audio message, Geelani had said: "keeping in view the present situation in Hurriyat Conference, I announce to part ways from the Hurriyat forum. The decision has been conveyed to all the constituents of Hurriyat through official letters."
However, many of Hurriyat leaders while talking to news agency—Kashmir News Observer (KNO) said that they have not received any letter so far from Syed Ali Geelani.
Meanwhile, Yasmeen Raja told KNO that the statement was nothing than a shock for them, adding that it seems something is fishy behind the yesterday's statement.
"We are ascertaining the veracity of the letter as well as the audio clip. Nobody is being allowed to meet Geelani Sahab, whose health is falling," she said.
She further stated that Hurriyat constituents has not taken any decision in this regard so far, but will sit together in next three to four days and will take any decision accordingly.
"Even during the recent meeting held by the Hurriyat, nobody had objections or queries with the senior separatist leader," she said, adding that she even met him twice at his residence before sometime and everything was alright.
She, however, said that Majlis-e-Shora will be called in next three to four days wherein a decision in this regard will be taken.
Pertinently, All Parties Hurriyat Conference (APHC), which has nearly 20 constituents at present, was founded on 07 August 2004 while Syed Ali Geelani took over as Chairman of the amalgam on 12 October 2004–(KNO)