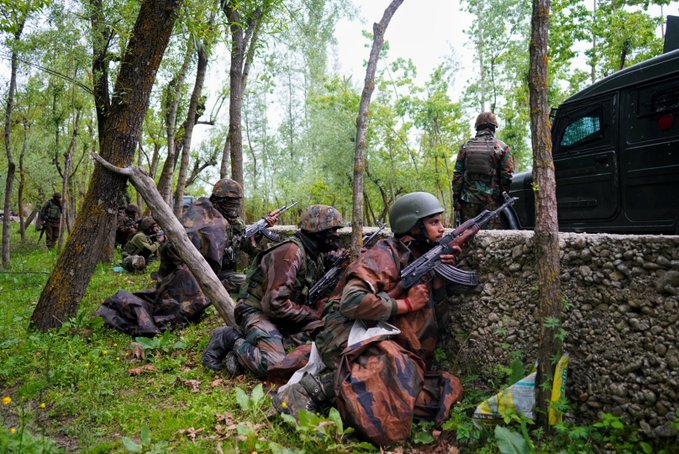 Tral, June 26: The night long encounter that last for 20 hours in Chewa-Ullar village of Tral in South Kashmir's Pulwama district Friday ended with the killing of last remaining militant taking the number of total slain militants to three, which includes the son of a Hurriyat Conference (G) leader.
The last surviving militant was killed Friday afternoon, police and defence officials said, taking the total number of militants killed in the encounter that broke yesterday afternoon, to three.
"The operation lasted for 20 hours," officials said. Police confirmed the killing of three militants in Tral gunfight on its official twitter handle. Defence spokesman Colonel Rajesh Kalia said that three militants were killed in the Tral encounter.
The operation was launched yesterday afternoon after a specific tip off was received by the forces. Joint teams cordoned off Chewa-Ullar village. "In the initial gunfight, two militants were killed. Cordon remained on through out the night and in the morning after fresh exchange of firing, another militant was killed in the afternoon," the officials said.
The slain militants have been identified as Muhammad Qasim Shah alias Jugnu of Midoora; Basit Ahmad Parray, a resident of Laribal and Haris Manzoor Bhat, a resident of Koil, Shikargah.
Shah, was the son of Ghulam Muhammad Shah, Tral head of Hurriyat Conference (G) led by Syed Ali Geelani. He had joined militant ranks in 2017, leaving his B.Tech degree in Chandigarh midway.
A police spokesman in a statement said that arms and ammunition including two AK rifles, 06 AK Magazine, 05 AK rounds, 01 Pistol, 01 Pistol Magazine, 04 Pistol rounds and other incriminating materials were recovered from the site of encounter.  "The bodies of the killed militants have been sent to Handwara for their last rites after conducting medico-legal formalities including collection of their DNA.
In case any family claims the killed militants to be their kith or kin, they can come forward for their identification and participation in last rites at Handwara," the spokesman said. People are requested to cooperate with police till the area is completely sanitized and cleared of all the explosive materials, if any.
Penitently, this is 12th encounter in South Kashmir in month of June in which so far 33 militants have been killed. With the killing of three militants in today's encounter, the number of militants killed this year have reached to 111. Meanwhile, as a precautionary measure internet services was snapped in Police Division Awantipora—(KNO)